Continuing in our whoopie pie series, today I'm going to share a recipe for a spice whoopie pie. I found the base recipe on cooks.com, but made so many changes, I've included the recipe with all my changes. Click here for the original recipe from cooks.com. Among my changes, I halved the original recipe. This still gave me about 20 whoopie pies.
Spice Whoopie Pie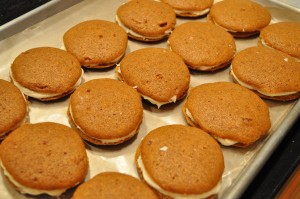 Cookie Ingredients:
2 c. brown sugar
1 c. vegetable oil
2 eggs
1 tsp. vanilla
1/2 tsp. salt
3 c. flour
1 c. milk
2 tsp. cinnamon
1/2 tsp. nutmeg
1/2 tsp. cloves
1/2 tsp. all spice
1 tsp. baking soda
Frosting ingredients:
1/2 C. butter
1/2 C. Brown sugar
1/3 C. Milk
3 C powdered sugar
8 oz cream cheese
Directions:
Preheat oven to 350 degrees F.
Cream together, sugar, oil, eggs, vanilla and salt.
Sift flour, baking soda and spices.
Alternately add the dry ingredients and milk to the sugar mixture, beginning and ending with dry ingredients.
Scoop onto a cookie sheet (lined with parchment) with a small ice cream scoop. Give them plenty of room as they will spread.
Bake for 8-14 minutes (10 was perfect in my oven) until inserted toothpick comes out clean.
Melt 1/2 C butter in a medium size sauce pan on medium-low heat.
Add 1/2 C brown sugar (I always use dark) and bring to a boil. Let it boil for 2 minutes, stirring constantly.
Add 1/3 C milk and whisk until combined. Bring mixture back to a boil and let it boil for another 2 minutes, without stirring.
Let mixture cool to lukewarm.
Add caramel mixture to 8 oz cream cheese and mix with a hand mixer.
Add 3 C powdered sugar, and beat until smooth.
Spread frosting between two cookies, making a sandwich.
These cookies are amazing. My sister-in-law came for the weekend and absolutely loved them. They are still not my favorite whoopie pies, but they are extremely close. I will definitely make these whoopie pies again.