We have yet again; another delicious whoopie pie. I'm a bit torn on this one though. To me, a whoopie pie can be puffy or flat, but it has to be cakey. This one is not at all cakey. It is a delicious, moist, chewy oatmeal cookie and one of the best sandwich cookies I've ever had, but I'm not sure if it's really a whoopie pie. But since the recipie title claims it is in fact a whoopie pie, and since it's delicious, I decided to include it. The original recipe comes from allrecipies.com. I made the cookie according to the directions, but used a different filling. Click here to see the original recipe.
Oatmeal Whoopie Pies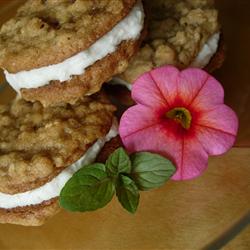 Ingredients
2 cups packed brown sugar
3/4 cup butter
2 eggs
1/2 teaspoon salt
1 teaspoon ground cinnamon
1 teaspoon baking powder
3 tablespoons boiling water
1 teaspoon baking soda
2 1/2 cups all-purpose flour
2 cups quick cooking oats
1/2 C butter
2 tablespoons milk
1 teaspoon vanilla extract
2-3 cups confectioners' sugar
1 small jar marshmallow cream
Directions
Preheat oven to 350 degrees F (175 degrees C). Lightly grease baking sheets.
Cream butter and brown sugar until light and fluffy. Beat in the eggs and mix well. Stir in the salt, cinnamon, baking powder, boiling water, baking soda and flour. Mix to combine. Stir in the oats.
Drop cookies onto the prepared baking sheets. Bake at 350 degrees F for 10 to 12 minutes. Let cookies cool then make sandwiches from two cookies filled with Whoopie Pie Filling.
To Make Filling: Cream butter and sugar. Mix in the milk, and 1 teaspoon vanilla. Mix in marshmallow cream and beat until fluffy and smooth.
View the other delicious whoopie pies in our series!!
Part One: Strawberry Whoopie Pies
Part Two: Spice Whoopie Pies