I love whoopie pies. They are similar in taste to a cupcake, but with more frosting. What could be better than that?! For those of you who are unfamiliar with whoopie pies, they are two cookies sandwiched together with frosting. But what makes them so good, is they are made with cakey cookies so it really is like eating a piece of cake.
I've decided to do a series of posts of whoopie pies (hence this being part one). I'll post the recipe, including any changes I made, and give a review. I'll do this every Tuesday for several weeks. I'll stop when I run out of recipes, or when my family is so sick of whoopie pies they begin throwing them at me (though I don't see how that is possible).
The first whoopie pies I made, were strawberry whoopie pies. Apparently they were featured on Oprah.
Strawberry Whoopie Pies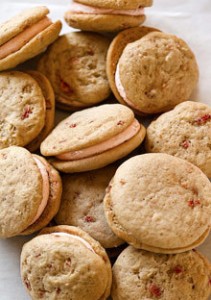 Recipe by Matt Lewis and Renato Poliafito
Ingredients:
1 cup (about 5 ounces) stemmed and halved strawberries
3 1/2 cups all-purpose flour
1 1/2 tsp. baking powder
1 tsp. baking soda
3/4 tsp. salt
2 cups light brown sugar
2/3 cup canola oil
1/2 cup plain yogurt
2 large eggs
1 cup (about 5 ounces) stemmed and halved strawberries
5 egg whites
1 1/2 cups granulated sugar
4 sticks butter , cut into cubes, at room temperature
Red no-taste gel food coloring
Directions:
To make cookies: Put strawberries in a food processor and pulse in short bursts just until they are chopped into small pieces (about 4 to 5 pulses), and set aside. (Be careful not to puree them.) Sift flour, baking powder, baking soda, and salt into a medium bowl, and set aside.
Put brown sugar and oil in a large bowl and mix well, using the back of a spoon to break up any lumps in sugar. Whisk in chopped strawberries and yogurt until combined, then whisk in eggs, one at a time, just until combined. Fold in flour mixture in two parts, being careful not to overwork the batter. Cover and refrigerate for 30 minutes.
Preheat oven to 350°. Using a measuring spoon, drop a heaping tablespoon of batter onto a parchment-paper-lined baking sheet to form each cookie, spacing dollops about 2 inches apart. Working in batches, bake until cookies are set and a toothpick inserted in the middle comes out clean, 10 to 12 minutes. Remove cookies from oven; cool completely.
To make filling: Puree strawberries in a food processor until smooth (about 15 seconds); set aside. Whisk egg whites and granulated sugar together in the top of a double boiler until sugar is dissolved and mixture is milky white, about 2 minutes. Transfer egg white mixture to the bowl of an electric mixer fitted with a whisk attachment and whisk on high speed until soft peaks form and mixture is glossy, about 2 minutes. Remove whisk attachment and replace with paddle attachment. Add butter and beat until smooth and fluffy, about 5 minutes. Add reserved strawberry puree and about 3 to 5 drops food coloring (frosting should be a light shade of pink), and beat again until well combined, about 1 minute more.
To assemble: Generously frost the flat side of half of the cookies, then top each with an unfrosted cookie to form sandwiches. Transfer to a platter and serve.
I actually made several changes to this recipe. I used half white sugar and half brown rather than all brown, because I am cheap and brown sugar costs more. I also used strawberry yogurt instead of plain because that's what I had. For the filling, I made a classic butter cream frosting and folded in a jar of marshmallow cream.
Overall, this was a good cookie. Whoopie pies come either puffy or flat. This was the flat kind. I prefer fluffy, but this still had a great cake-like texture. My son did not like the texture because of the seeds (but he also won't eat skittles or pizza, so he's not the greatest judge of good food), but he thought the flavor was great.
I also thought these cookies had a great flavor, especially early in the summer when we get the strawberries we've lived without all year! The flavor was natural and not artificial. I will make this recipe again, but it is not in my top favorites of the whoopie pies I've made. Stay tuned to see what is!