We have come to part 7; the final part in our whoopie pie series. And of course, it's the moment you've all be anticipating (I'm sure), my favorite whoopie pie! I love all things pumpkin and this whoopie pie does not dissappoint. It's cakey, puffy, moist and a perfect balance of flavors. This recipe comes from allrecipes.com.
Pumpkin Whoopie Pies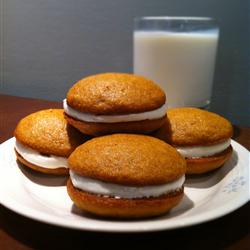 Ingredients
2 cups packed brown sugar
1 cup vegetable oil
1 1/2 cups solid pack pumpkin puree
2 eggs
3 cups all-purpose flour
1 teaspoon salt
1 teaspoon baking powder
1 teaspoon baking soda
1 teaspoon vanilla extract
1 1/2 tablespoons ground cinnamon
1/2 tablespoon ground ginger
1/2 tablespoon ground cloves
1 egg white
2 tablespoons milk
1 teaspoon vanilla extract
2 cups confectioners' sugar
3/4 cup shortening
Directions
Preheat oven to 350 degrees F (175 degrees C). Lightly grease baking sheets.
Combine the oil and brown sugar. Mix in the pumpkin and eggs, beating well. Add the flour, salt, baking powder, baking soda, 1 teaspoon vanilla, cinnamon, ginger and cloves. Mix well.
Drop dough by heaping teaspoons onto the prepared baking sheets. Bake at 350 degrees F (175 degrees C) for 10 to 12 minutes. Let cookies cool then make sandwiches from two cookies filled with Whoopie Pie Filling.
To Make Whoopie Pie Filling: Beat egg white and mix with the milk, 1 teaspoon vanilla and 1 cup of the confectioners' sugar. Mix well then beat in the shortening and the remaining cup of confectioners' sugar. Beat until light and fluffy.
I hope you've enjoyed the whoopie pie series as much as I have. It gave me a chance to try a ton of recipes and share my favorites with you. Keep checking thepinkapronblog.com for more recipes, crafts, and other tips.
Check out the other Whoopie Pies in our series!
Part One: Strawberry Whoopie Pies
Part Two: Spice Whoopie Pies
Part Three: Oatmeal Whoopie Pies
Part Four: Banana Whoopie Pies
Part Five: Chocolate Whoopie Pies
Part Six: Grasshopper Whoopie Pies