Part 6 of our whoopie pie series, is my personal favorite… so far. It's my own creation, but I can't take too much credit, as I took the base recipe from another whoopie pie. As you may know, "Grasshopper" is code for "mint chocolate."
The base recipe for this is the same whoopie pie in our Week 5 entry, Chocolate Whoopie Pies.  This whoopie pie reminds me of a Thin Mint Girl's Scout cookie, but soft, creamy and chewy. It's puffy, cakey and delicious!
Grasshopper Whoopie Pies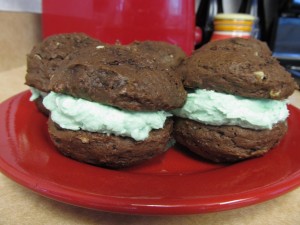 Ingredients:
1 cup sugar
1 egg
1/2 cup butter, softened
1 teaspoon mint extract (not peppermint)
1/2 cup cocoa, sifted
1 teaspoon baking soda
1/2 teaspoon salt
2 cups all-purpose flour
1 cup buttermilk
1 C Andes Creme De Menthe chips
Filling:
1/2 C butter
2-3 C powdered sugar
1 1/2 t mint extract
1-2 T milk
8 drops green food coloring
Instructions
Preheat oven to 375 degrees.
With an electric mixer, beat the sugar, egg, butter, and mint extract until light and creamy. In another bowl, mix the cocoa, baking soda, salt, and flour; then blend with buttermilk into the creamed mixture.
Fold in Andes chips
Drop batter by the heaping tablespoon onto greased baking sheets and bake 7 to 9 minutes. Remove from the baking sheets and cool on wire racks. Makes 30 mini-cakes.
To make the filling, mix together all ingredients well.
To assemble, sandwich a heaping tablespoon of cream between two cakes, dividing cream evenly between the 15 whoopie pies.
Check out the other Whoopie Pies in our series!
Part One: Strawberry Whoopie Pies
Part Two: Spice Whoopie Pies
Part Three: Oatmeal Whoopie Pies
Part Four: Banana Whoopie Pies
Part Five: Chocolate Whoopie Pies