Last week, I was asked to give a cupcake demonstration at an activity for our church. Since I created a handout for the ladies, I decided it would make a perfect blog post!
Cupcakes are all the rage these days. Why? Because they are delicious, of course!! Here are some tips to improve your mad cupcake-making skills.
The first section will help with the basic cupcake baking. The next part will help you take the basic cupcakes you already know how to make and make them a little more special and fun. None of these tips require an amazing amount of skill or talent. They just require someone who thinks about cupcakes a lot. Oh, that's me!
Basic Cupcake Baking Tips:
Use light-colored pans. Dark ones tend to not bake as evenly.
If you don't have a convection oven, rotate your pans about 2/3 of the way into your baking time.
Your cupcakes are done when the top springs back when you press on it lightly. If you press lightly and can still see the indent of your finger in the cupcake, they need more time.
When mixing in dry ingredients (flour, etc) and wet ingredients (milk, water, juice, etc) into your butter or oil mixture, alternate between the dry and the wet, starting and ending with dry.
High Altitude Variations: (I usually go somewhere in the middle with these changes)

Reduce baking powder 1/8 to ¼ t per t
Reduce sugar 0-2T per cup
Increase liquid 2-4T per cup
Increase temperature 10-25 degrees
Cupcake Flavor Variations: (This can work with a cake mix as well!)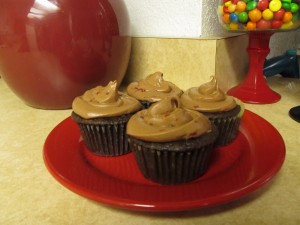 Replace ¼ of the liquid (milk, water, etc) with juice to give it more flavor.

Apple juice plus 1t apple pie spice
Orange juice
Maraschino cherry juice
Coconut water or milk
Replace the vanilla with another extract.

Almond, Peppermint, Orange, Mint

Add different spices (cinnamon, pumpkin pie spice, apple pie spice, etc.

Add Citrus zest (orange, lemon, lime, grapefruit)
Adding filling to cupcakes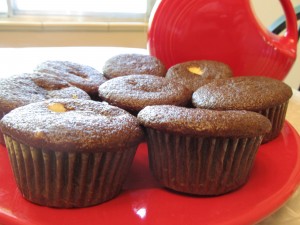 Use a cupcake corer, cut out a cone shape from the middle of the cupcake, stick a very fine piping tip in the middle of the cupcake and squeeze the filling in. Use a filling pan.
Add:

Ganache (12 ounces chocolate, one cup cream, melted together. Let this cool)
Caramel  or chocolate sauce (Homemade or basic ice cream sauce)
Marshmallow fluff
Pudding
Candy
Chocolate chips (only add about 1 ½ C per 24 cupcakes. Dust the chocolate chips in a little flour before adding them to keep them from sinking to the bottom)
Add toppings to cupcakes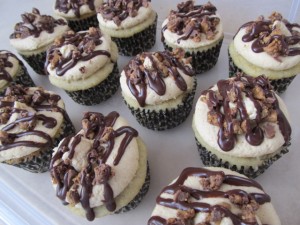 Drizzle ganache from a squeeze bottle
Caramel or chocolate sauce
Shredded coconut (plain or toasted. Add it to a dry skillet on medium heat and toss it until it's golden brown)
Candy bits (heath, snickers, etc)
Mini chocolate chips
Nuts
Dried fruit
Cookies
Frostings: (DISCLAIMER! I am not one to measure as I make frosting. These are the basic measurements I use, but as you add the powdered sugar and milk, add them in small batches and taste and feel as you go. Stop adding when you are happy with the consistency and flavor).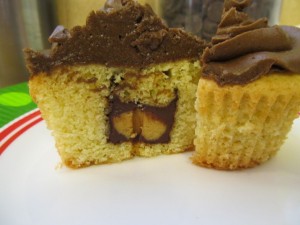 Butter cream: Whip 1 C butter with 5-6 C powdered sugar (added gradually), 1-2 t vanilla 1-2T milk.  Taste and feel as you go. Whip for 3-5 minutes. Add in some cocoa powder 1T at a time for a quick chocolate frosting.
Cream Cheese: Whip 8 ounces cream cheese with ½ C butter. Gradually add 4-6 C powdered sugar and 2t vanilla. Taste and feel as you go.
Ganache – Heat up 1 C whipping cream until it simmers.  Pour warm cream over one bag (12 ounces) chocolate chips and let it sit for about five minutes. Whisk until smooth.  Let this sit for about 20 minutes and then spread on cupcakes. This will harden a bit as it sits. If you want a fluffy frosting, after you whisk the chocolate and cream mixture, let it set in the fridge for about an hour and then whip it with a hand mixer until it's fluffy.
Pipe frosting on using a large pastry bag with or without a tip. Or, if you don't want to buy a large pastry bag, just use a large plasic zipper bag and cut the tip off.
Frosting flavor variations: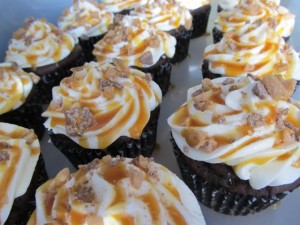 Extracts

Orange to chocolate
Peppermint to cream cheese or butter cream
Almond to cream cheese

Juice – Replace half the milk in butter cream with juice (orange, cherry, etc).

Citrus zest – Zest an orange or lemon into butter cream or cream cheese frosting.

Fold in candy, nuts or dried fruit into any of your frostings.
If you have any tips, I'd love to hear them. Few things make me as happy as a delicious cupcake (Okay that's not quite true. But I do really love cupcakes)!