My daughter loves Sesame Street, so for her birthday party, I made Elmo and Cookie Monster cupcakes. I decided, since they are fuzzy monsters, I couldn't really go wrong.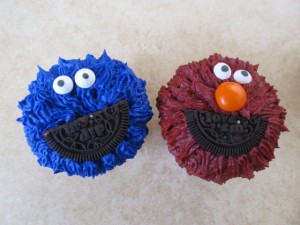 Start by making any flavor cupcake you want and one to two batches of frosting. I made two batches of my classic butter cream. Then comes the messy part.
Divide the frosting in half and dye one part blue and one part red. The blue was no problem. I used a gel food coloring and needed about 1/2 t to make it blue. The red on the other hand… took an entire bottle. I ended up adding one tablespoon of cocoa to make it darker without adding more coloring. It made Elmo a little bit maroon, but no one complained.
Before you start piping, cut 12 Oreo cookies (or the generic equivalent) in half.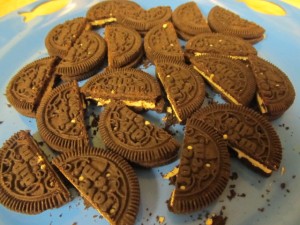 Start by frosting the cupcakes with a thin layer in either the red or blue.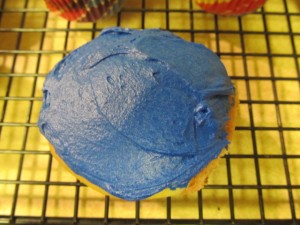 Then put the remaining color in two piping bags. For Elmo, I used a Wilton number 18 piping star tip.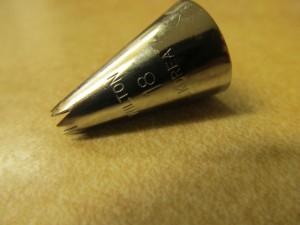 Starting from the outside and working your way to the middle, pipe long ropes (by long, I mean about 1/4 inch) of fur.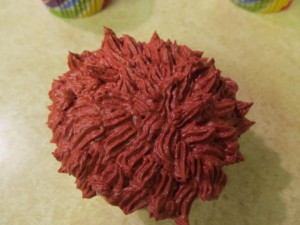 Next, place half an Oreo on the cookie for Elmo's mouth. If you like, pipe more fur around the mouth so the mouth blends in well.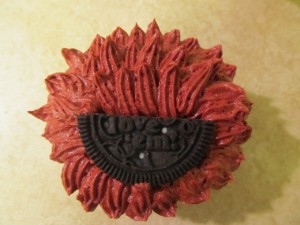 The eyes are candy eyes I purchased at Target in the baking section. If you can't find these, use white chocolate chips with some black gel frosting, or cut mini marshmallows in half and add the black gel frosting to them. Make sure you put Elmo's eyes fairly close together. On my first attempt, I put the eyes too far apart, and it looked like Elmo's second cousin.
The nose is just an orange peanut-butter M&M. You could use a peanut M&M or a pretzel M&M as well, but a plain M&M would be a bit too small.
There's Elmo!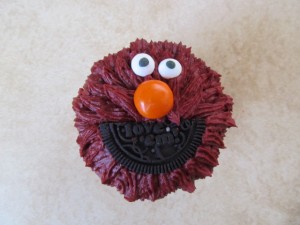 For Cookie Monster, I used a Wilton number 16 piping star tip.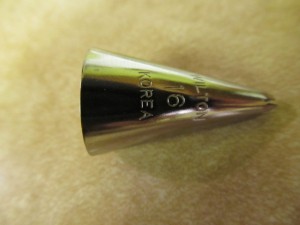 Similar to Elmo, start  from the outside and pipe ropes of fur. But because Cookie Monster's fur is a little more curly, I did a subtle zig-zag pattern to his fur.
Now just  add the Oreo half as you did with Elmo, and fill in the fur around the mouth.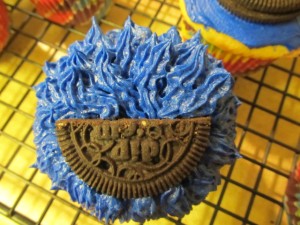 Now add the eyes. Like Elmo, make sure you place them close together.
There's Cookie Monster!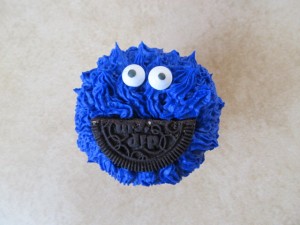 I love these cupcakes because it doesn't take a lot of skill to make them look great!