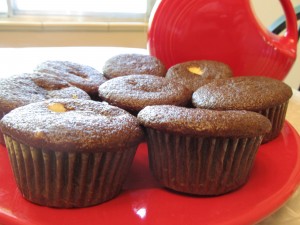 Growing up, our family went rafting every summer. During these trips, my mom and my friend's mom would plan elaborate picnics for each meal during the week. We had these cupcakes on every trip. They're a great dessert for travel, because they can be stored without worrying about frosting. These cupcakes have a lot of great childhood memories for me. I'm not sure where the recipe came from (I know we didn't invent it) but today, I'm going to share it with you.
The recipe starts with a basic chocolate oil cake recipe. I'm sure you can use any chocolate cake recipe you like as a base.
Chocolate Oil Cake
Ingredients:
3 C flour
2 C white sugar
2 t baking soda
2 t baking powder
1 t salt
4 T cocoa
2 eggs
1 C oil
2 C warm water
1 t vanilla
Cupcake Filling
Ingredients:
8 oz  softened cream cheese
1/3 C sugar
1 beaten egg
6 oz semisweet chocolate chips
dash salt
Directions:
In large bowl, whisk together dry ingredients of cake batter until smooth.
Make a well in the dry ingredients and add wet ingredients.
Beat all ingredients together.
Fill 32 lined cupcake cups 2/3 full.
Beat together filling ingredients.
Drop one rounded teaspoon of filling into each cupcake.
Bake at 350 degrees for 18-22 minutes
Cupcakes will set as they sit.