I LOVE this time of year. The back-to-back holidays, the fall colors and especially the food. And since Halloween is my kids' favorite holiday (free candy and dress-up?), we make a lot of Halloween treats in our house. These adorable pudding graveyards are a Halloween dessert that is easy enough for those of us with little to no culinary artistic ability.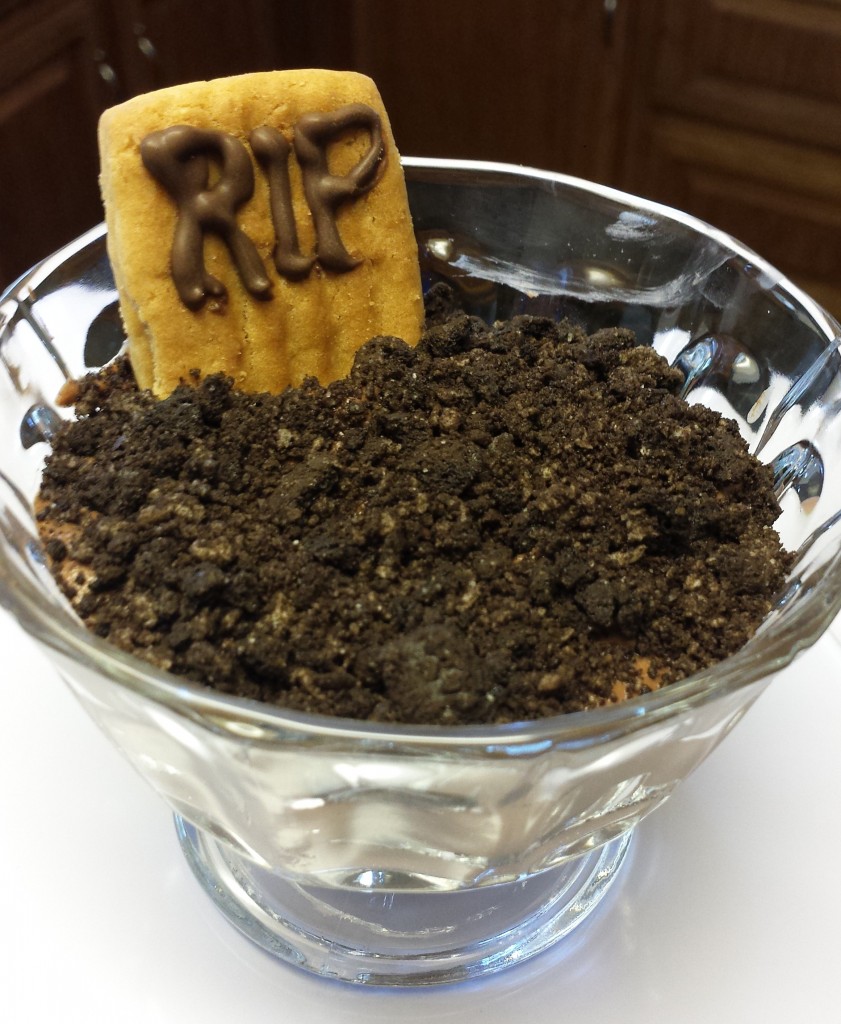 Start out with your favorite kind of chocolate pudding. Heck, you can even use Jell-O pudding. Who am I to judge? I used Chocolate Covered Katie's Chocolate Mousse recipe. At first, I felt some guilt for topping beautiful, natural, tofu pudding with chocolate cookies, but the guilt passed quickly.
Next, make the "graveyard dirt." In a mini food-processor, blend an entire snack-cup of Oreo cookies. You could use regular Oreo cookies, but I prefer to buy them in the small cups as me plus an entire package of Oreos in the house equals disaster.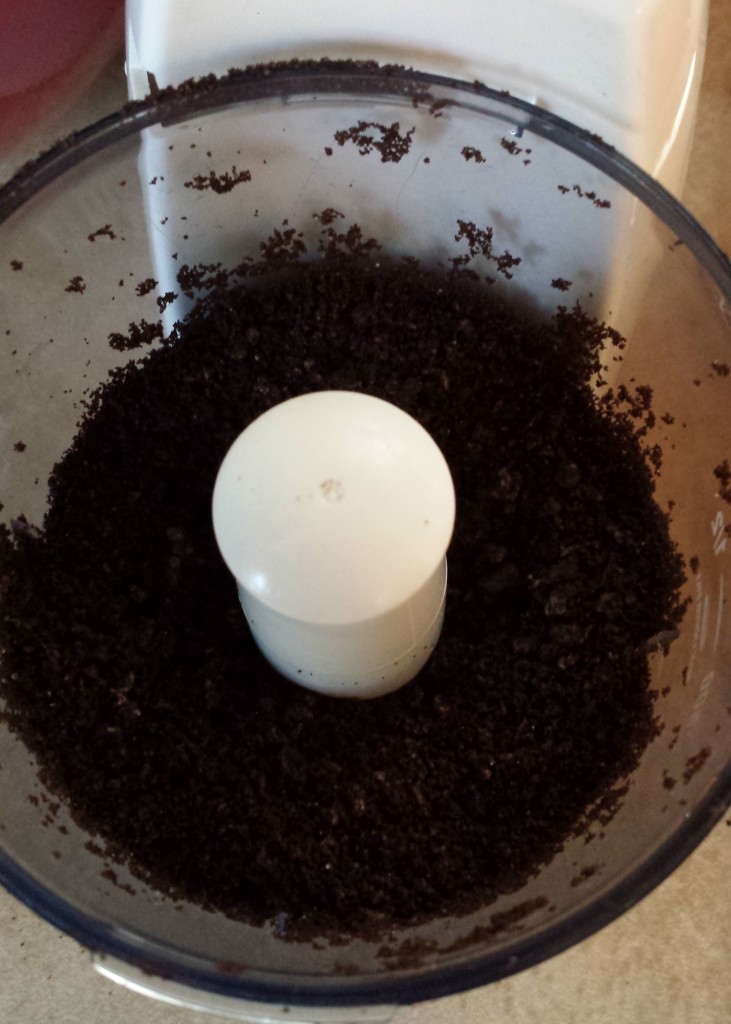 Now for our headstones. Find any rectangular-shaped cookie (or make it). I used Mother's peanut butter cookies because I think chocolate and peanut-butter should always be put together if possible. Next, melt a little milk chocolate (I just used 1/8 C chocolate chips) and scoop the melted chocolate into a zipper bag. Cut the smallest hole possible in the corner of the bag and pipe the letters "RIP" on each cookie. If you are talented enough, I'm sure you could add more words or pipe pictures. My abilities ended at "RIP."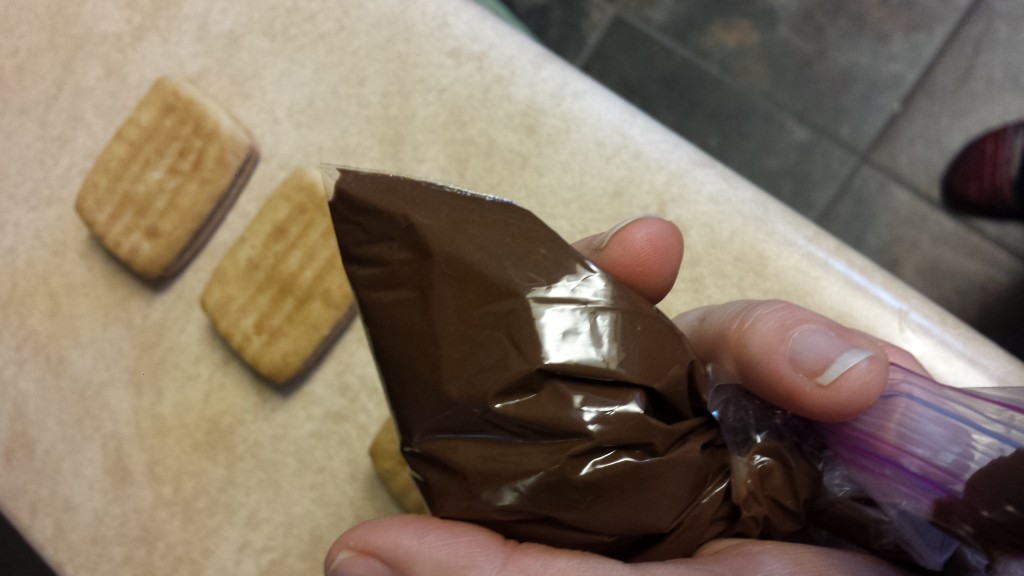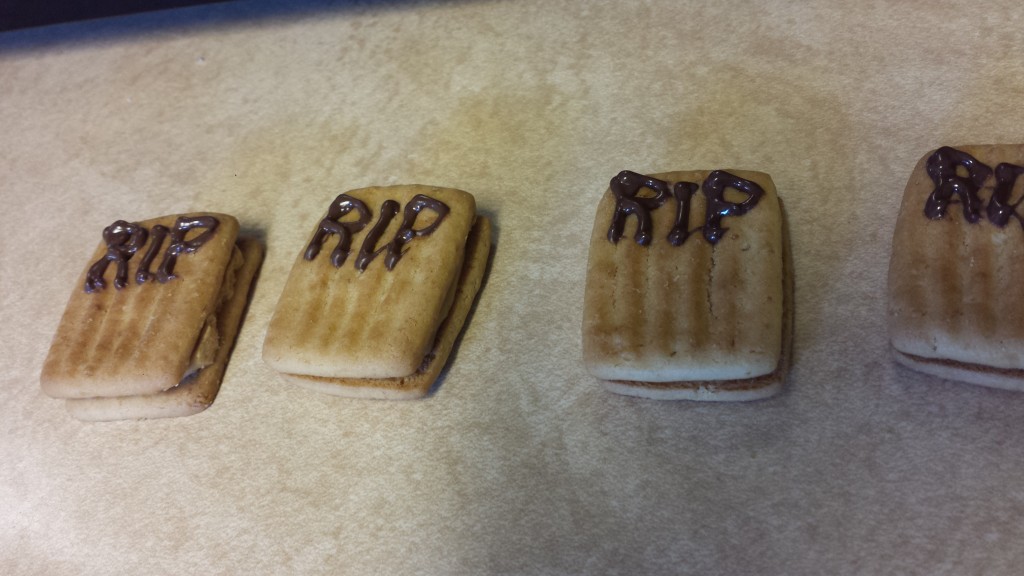 Now it's time to assemble. Because nothing else gets combined or baked, you have free reign on portions here. I'll tell you what I did, but just do what works for your family. Add two big scoops of pudding to the bottom of a cup (I thought these ice cream dishes were adorable).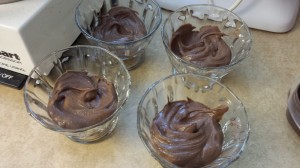 Top the pudding with about 1-2T crushed Oreo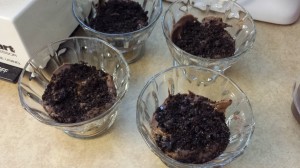 and top with two more  big scoops of pudding.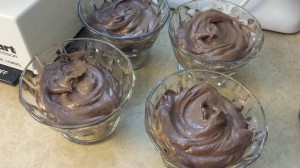 Distribute the remaining Oreo crumbles on top (you want this to resemble dirt). Once your headstones have dried, put the cookies in the cup, upright.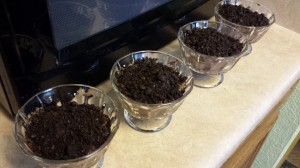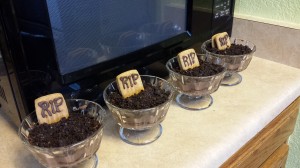 These are so easy, adorable and tasty. And I feel I've fulfilled my weekly quota of holiday treats. Happy Halloween!