I love muffin tins. First off, they are an essential tool to making cupcakes. And cupcakes are an essential tool to life. I also love to make muffins for breakfasts, dinners or car trips. They're basically the perfect serving size. So this got me thinking; why can't we use them for other things and have the perfect serving size of other things as well. It was a pivotal moment. So here are some other things we use muffin tins for in our house.
Meatloaf – Luckily, my daughter loves meatloaf. But turn it into a muffin and it's basically the most fun dinner ever for a four-year-old. Just use whatever meatloaf recipe you like and bake individual servings in muffin tins at 350 degrees for about 30 minutes. If you are a fancy person (we're not so much) you could pipe mashed potatoes on top to look like frosting. We just added the "glaze" the last 10 minutes of baking and called it good. And as you'll see is a theme with this post, these can also be frozen in a Ziploc freezer bag and thawed individually.
Eggs – We love scrambled eggs but we all like different fillings. Just spray your 12-cup muffin tins and fill them about 1/3 full with whatever each person wants. We usually brown sausage for all the cups and then add onions, peppers, tomatoes, cheese and herbs based on what each person likes. Then beat 6 eggs and add 1/3 c milk (we use almond milk but any milk works) Pour the eggs into each muffin cup and bake at 350 degrees for about 25 minutes. These also freeze well and can be individually microwaved for about 45 seconds each.
Customized muffins – Like the eggs, we don't all like the same fillings and toppings on our muffins. This day, we made a basic cinnamon muffin. Some are topped with more cinnamon, some with chocolate chips, some with chopped nuts and others with cinnamon coconut. You could also add fruit to some and leave others plain. This makes everyone happy.
Breakfast cups – This are one of my favorite quick, healthy breakfasts. They are also a great "ice cream" treat when everyone around you is having ice cream. Just mix 1 C plain Greek yogurt with 2T all-natural peanut butter. Stir in 1 C berries. We used 1/4 C each of strawberries blackberries, raspberries and blueberries. Divide this mixture between six muffin tins lined with parchment wrappers and freeze. After they're frozen, remove them from the tin and put them in a ziploc freezer bag. Set them out for about 5 minutes and the wrapper easily comes off.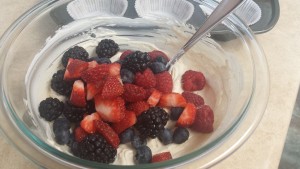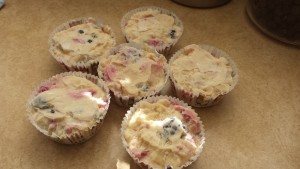 I've also heard of people using muffin tins to separate crafts supplies for a project for kids or separating snacks for a group. How do you use your muffin tins?