I have yet another slow cooker recipe. I can't get enough of my slow cooker. It makes deliciously warm meals that make my house smell good all day long. It also means I can prep dinner in the morning and forget about it for the rest of the day. These BBQ meatballs have ground chipotle pepper, which gives these meatballs a great smoky flavor which makes me think of summer, even when there is still a foot of snow outside.
Start with the sauce. This is so easy because you can mix it all together in your slow cooker. Just add all the sauce ingredients and mix them together. As you can see, I had a lovely assistant help me make dinner this day.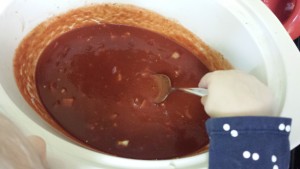 Now for the meatballs. Mix all the ingredients in a bowl except for the meat. I always add the meat last after everything else is mixed so I don't over-work the meat. Once the meat is incorporated, form the meatballs.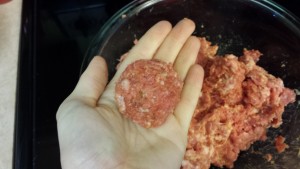 Now just gently drop the meatballs into the sauce. Try to gently push them down so they are all mostly covered in sauce. Let them cook on low while you do exciting things like clean bathrooms and take the kids to piano lessons (can you tell what I do all day?).
I like to serve this over mashed sweet potatoes but it would also be delicious over regular mashed potatoes, rice, or on its own. Sadly, I forgot to take a picture of the finished product. Picture fluffy, orange sweet potatoes topped with juicy meatballs and thick, tangy BBQ sauce. I'm pretty sure that speaks for itself.
Slow Cooker BBQ Meatballs
BBQ sauce:
In the slow cooker, mix together:
2 C tomato sauce
1 C beef broth
2 T balsamic vinegar
2 t worchestershire sauce
3 garlic cloves, pressed
1 small onion, chopped
1 t oregano
2 t cumin
1/2 t ground chipotle pepper (leave this out if you don't like spicy food)
salt and pepper to taste
BBQ Meatballs:
Now assemble the meatballs. In a bowl combine:
2 egg yolks
2 t salt
1 t black pepper
2 t oregano
1/2 t ground chipotle pepper (change to 1/4 to keep the spice low)
1 t cumin
Once this is mixed together add the meat.
2 lbs ground meat (this can be beef, pork, chicken, turkey or a combination of any of the above. I like combining beef and pork, but use what you have on hand)
Form the meatballs into 2T size balls and drop them into the slow cooker sauce. Cover and cook on low for about 6 to 8 hours.