I apologize in advance to those of you who aren't mothers, but as this Sunday is Mother's Day, I wanted to write a post about being a mom. With everything I've experienced in my life, nothing has changed me more than being a mom. In most ways, that's a good thing. In some ways it's bad (like those days when it's 3 p.m. and I realize I still haven't had three seconds to myself to shower. I apologize to society for those days). This post is about the things that have changed since I became a mom. Some I expected and some I never thought would apply to me.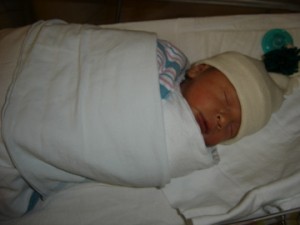 (This is the day I became a mom).
Before becoming a mom, I never thought I would:
Pick someone else's nose.
Do a full-on, screaming, cheer because the poop ended up in the toilet and not in a pair of pants/the floor/the bathtub. Yep. Being a mom is glamorous.
Spend my day shaping play dough, coloring, singing Old McDonald, and watching Sesame Street repeatedly. I can't even recall what a day in the life of an adult includes.
Spend many sleepless nights in a rocking chair with a sick or grumpy baby.
Be more overjoyed to receive a picture of myself with 15 fingers and a blue nose, than a portrait done by a famous artist.
Actually stick a bum right up to my face to see if the offensive odor in question is coming from my child.
Let my child eat food off the ground. I admit. I was one of those judgmental people who saw other moms do such things and thought I would be superior in my mothering skills… someday. Now, if it's not covered in anything toxic and it will prevent screaming, a few dropped cheerios or pretzels are still edible in my book.
Forget what it feels like to sleep until I am no longer tired and let my body wake up naturally.
Find toys everywhere: laundry baskets, sock drawers, kitchen cupboards, the fridge, the VCR (yes… we still have one), and yes, a bucket of flour.
Know what it is like to love someone so much I would give all I have to make them happy.
Being a mom is the hardest/best thing I've ever done in my life. Happy Mother's Day to all you moms out there! If you aren't a mom, let the moms in your life know how much you care for them.
Consider these tips to help mom feel extra special on Mother's Day
For breakfast, consider making  Cinnamon Raisin Scones