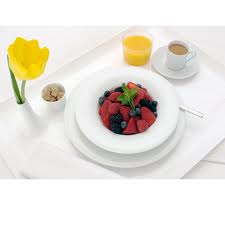 One of the greatest Mothers' Day traditions is breakfast in bed. Here are some ideas to make this year's breakfast extra special.
Rather than make plain pancakes, dress them up by adding pineapple juice for half the liquid in a pancake mix. Add some flaked coconut as well and top with a berry syrup.
Serve waffles with a fruit cream. Puree 1/2 to 1 C fruit and fold into some whipped topping.
Use a cookie cutter to cut french toast into the shape of flowers.
Add 1/4 t of vanilla (or other extracts) to hot chocolate. Top with whipped topping flavored with  the same extract.
Even if you do something simple, add a note to let Mom know how much you appreciate her.
Garnish the plate with a few of her favorite candies (Hey; it's Mothers' Day. Candy after breakfast is totally acceptable).
Add fresh berries to everything (pancakes, waffles, french toast, cereal, oatmeal and even juice).
Serve the meal on special dishes.
Being a mom is the most important job in the world. Happy Mothers' Day to all you moms out there!