When I was little, we used to have some amazing cinnamon raisin scones for special occasions. I decided to recreate them this week. My family loved them so much, I'm making them again this weekend for breakfast.
Cinnamon Raisin Scones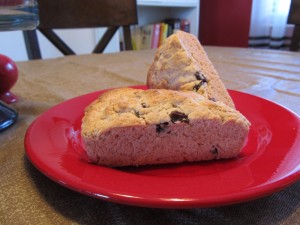 In a medium bowl, combine:
2 1/2 C Bisquick
1/4 C sugar
1 1/2 t cinnamon
Using a box grater, grate in
Using a fork, stir in
1/4 C buttermilk
1 beaten egg
1 t almond extract
Stir in
When the mixture is completely combined,
pat it out into a 9″ circle  and divide it into eight triangles (like cutting a pie). Put the pieces in a circle on a cookie sheet lined with parchment paper.
or
if you have a scone pan, divide the dough into eight equal parts and pat the dough into the greased sections.
Bake at 425 degrees for 12 to 14 minutes.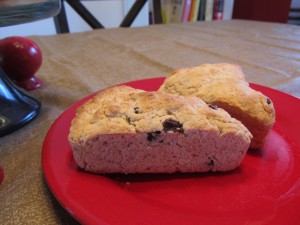 The ones I had growing up always had a glaze. I suppose you could make a glaze out of powdered sugar, milk and almond extract, but I like prefer them warm with butter. YUM!