A few weeks ago I went to an event for families and was asked to bring treats. For some reason, I have a lot of friends who have kids with allergies. I wanted to find a gluten-free, peanut-free, dairy-free, egg-free recipe. Luckily, I knew how to make these awesome popcorn balls. Did you know popcorn is gluten free?
The color of the popcorn balls depends on the flavor of Jello you add. I chose strawberry because the idea of little, pink popcorn balls filled my heart with joy.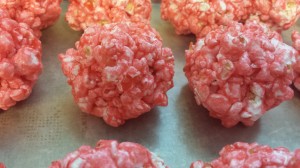 Start with 10 cups of popcorn. You can either use a fancy popper and pop your own or…. use 2-3 bags of microwave popcorn. To keep this dairy free, make sure the popcorn has no butter.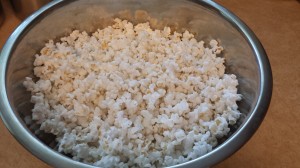 Then in a saucepan, combine:
1 C corn syrup
1/2 C sugar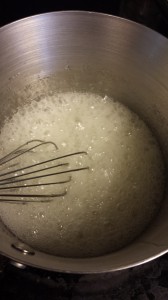 Once this mixture starts to boil, let the sugar dissolve, remove it from the heat and stir in
Stir until the Jello dissolves into the sugar and corn syrup.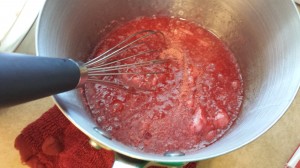 Pour this goodness over the popcorn and stir until it's all combined. This takes a little time and patience, but there is plenty of sugary syrup to coat all the popcorn.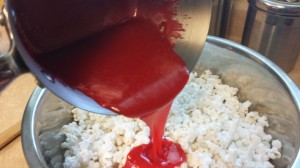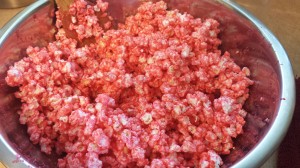 Unless you want blisters on your hands, let this cool for about five minutes. Use some pure-oil (again for allergies) cooking spray and spray your hands. Take small handfulls and roll it into balls.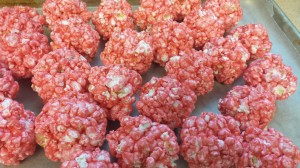 After they're completely cool, put them in plastic baggies. I just used the fold-over kind, but if I were more like Donna Reed, I may have wrapped them in square pieces of plastic wrap and tied them with a cute bow. I however was content with my fold-over sandwich baggies.
Aren't these adorable? Plus, they're really tasty. I don't know if adults are supposed to still like popcorn balls, but I'm a fan.