Last week, I posted a variation on my favorite chocolate chip recipe. Since I just can't get enough of this recipe, I decided to do one more variation. I took the traditional Hershey's Kiss cookie, but gave it a Christmas twist.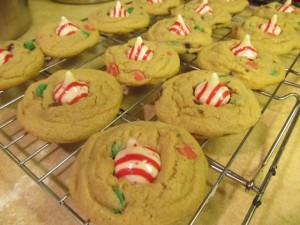 Start with the basic chocolate chip cookie recipe by creaming together:
1 C softened butter
1 C packed brown sugar
1/2 C granulated sugar
Whip this mixture until it's light and fluffy, then add:
2 eggs (beat one at a time until incorporated)
1 t vanilla
1 t peppermint extract (not mint)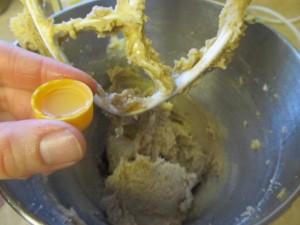 In a separate bowl, whisk together:
2 3/4 C bread flour (this is what makes them so amazingly awesome)
1 t salt
1 t baking soda
Add the dry mixture to the butter mixture in three parts, mixing until just incorporated.
During one of my many shopping trips this season, I found these: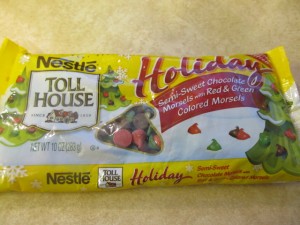 They don't have a unique flavor, but they're so cute!! I added an entire bag of the Nestle Holiday Chocolate Chips.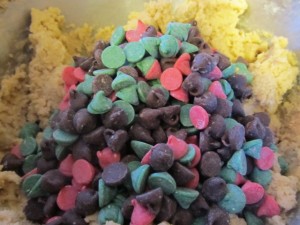 Scoop the cookies onto a cookie sheet lined with parchment paper and bake them at 375 degrees for about 10 minutes (give or take two minutes)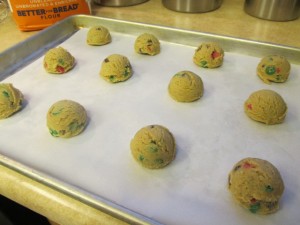 While they're baking, unwrap…..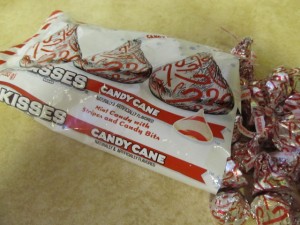 CANDY CANE KISSES!!!!! These always make me smile.
Press one candy cane kiss into each cookie as soon as it comes out of the oven.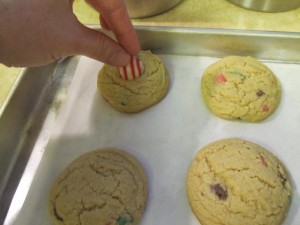 Now you have to let these sit until they're totally cool and the kiss is set. My impatient tendencies let me to pick one up and I was punished with a candy cane kiss spilling out all over my hand.
I patiently waited for the rest to set up, and was greatly rewarded.