Since the dawn of man, neighbors have wished each other a "Merry Christmas!" with fruit cake, cookies and various forms of Chex mix. Our family has also embraced the Christmas treat tradition. But after years of throwing away stale cookies 3 days after Christmas, I decided to give my neighbors something different. Here are some ideas of what to give to neighbors that may be a refreshing change from the usual.
1. Fresh bread and jam/jelly – Not only is this a change, but it makes your life easier as well. Berries are generally cheaper in the summer and time seems a bit more abundant. I make homemade jam or jelly in the summer and give it to neighbors at Christmastime. I got this idea from my brilliant mother the year my sister got married on December 22. No neighbor-gift stress that year. You can pair it with homemade bread if you wish; in a ceramic, mini-loaf pan.
2. Hot chocolate kit – Make homemade hot chocolate mix or just buy a big ole' tub of pre-made stuff from Costco/Sam's club. Once you divide it into tins, it doesn't really matter. Include: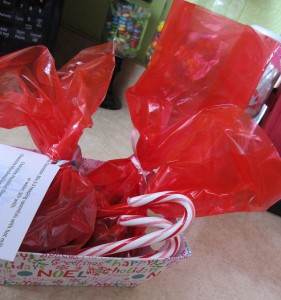 Candy Canes
Dipped spoons: Scoop up some Nutella or other nut butter in a plastic spoon, and then dip the spoon in melted white or milk chocolate. Top it with crushed up candy cane or m&ms. Let these harden and put them in a cellophane bag with a Christmas ribbon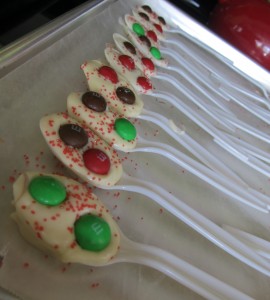 Dipped marshmallows: Put marshmallows on a stick and dip them in white or milk chocolate. Then dip them in crushed up candy canes, toffee bits, or chocolate sprinkles.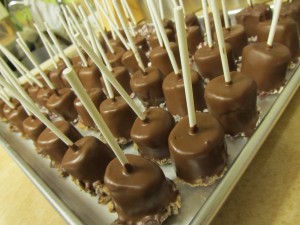 3. Homemade soaps
4, Homemade cake, cookie or bread mixes
5. Stove Top Potpouri ingredients – Since I've decided to do this this year, I've done some research and here are a few recipes I've found that look WONDERFUL! (p.s. If you're my neighbor, forget you read that).
6. Homemade applesauce – Again, I made this in early fall before all the Holiday rush (which begins October 1st really). And since I got the apples from a kindly neighbor, it also made it less expensive than other gifts.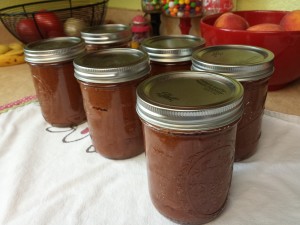 7. A bag of Cuties mandarins – A nice healthy treat amid all the holiday sugar.
8. A Christmas story with a scented candle – Candles can be a bit pricey, so you could just put together a collection of Christmas stories.
9. Cinnamon Ornaments – These smell like you're making a delicious treat without the calories. Whoop whoop!!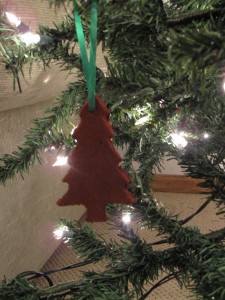 10. Christmas wrapping – This may sound strange, but sometimes practicality is the most appreciated gift. Include a roll of Christmas wrapping paper, some tape, a spool of ribbon or bows and some to/from tags.
May you and your neighbors have a very merry Christmas this year!