Today we had a huge wind storm which left our backyard completely yellow and brown with leaves. Since I'm going to make my husband be the one to rake them up, I decided to give him a hand and pick up a five or six for a craft. You're welcome, husband.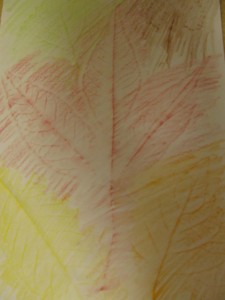 Supplies Needed:
Leaves
Computer paper in any size
A flat surface
Crayons in fall colors
I started by cutting regular 8 1/2 " by 11″ computer paper in half.  Place the leaf (vein side up) on a flat surface (it's very important the surface is flat). Place the paper on top the leaf, so the paper and veins of leaf are touching. Then color the paper over the leaf lightly with a crayon. That's it! The shape of the leaf should appear on the paper.
Now you can either display a single leaf on a page, color various leaves to make leaf paper, or cut out leaves and hang them up.
This is a great craft for kids of all ages. My son is too young to draw too many distinguishable shapes (don't tell him I said that!) so this is a great way for him to draw a picture that looks exactly how he thinks it should. Plus, he gets extra excited when he starts to see the leaf.
Collecting the leaves is also part of the fun. We've used leaves from our backyard, leaves from trails by our home and leaves from various canyons. A leaf imprint is a great way to preserve a memory of an outing without bringing home crumbly leaves.