I love meatloaf! I love the taste, I love the texture, I love the smell and I love how easy it is to make. Here is how we do meatloaf in our house.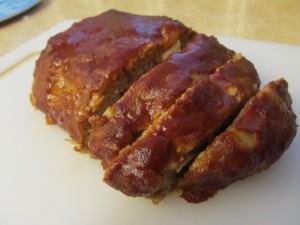 In a small bowl, combine 1/3 C oats with 2T milk. Mix and let this sit while you assemble the rest of the ingredients.
Now brown half a chopped onion in 2t olive oil and salt and pepper to taste. Set that aside.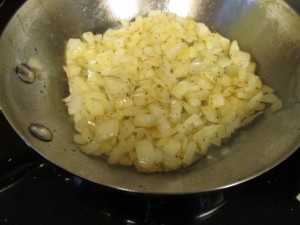 In another small bowl, combine:
8 ounces tomato sauce

2T Worcestershire sauce
2T molasses
1 t honey mustard
1t cumin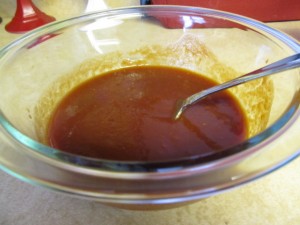 Now it's time to bring it all together!!
In a large bowl:
Beat one egg and add:

the oat mixture
1/4 C of the tomato sauce mixture
1/4 t pepper
1/2 t salt
The cooked onions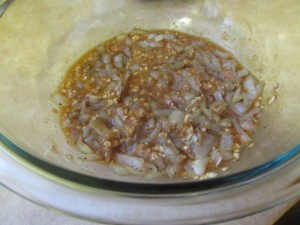 Combine this together before adding: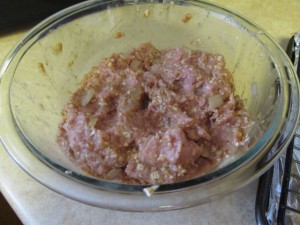 You can use ground beef, pork, or chicken if you like. We use ground turkey for everything in our house. I think the best way to mix this altogether is with your hands. Plus my kids like when I mix with my hands and then shout, "I have monster hands!" while holding up my food-covered fingers. Oh the joys of motherhood.
Now line a 1/4 sheet pan with foil (to make your life easier at cleanup) and top with a cooling rack.It's best to use a rack with metal running in both parallel and perpendicular for more stability. Spray the cooling rack with nonstick spray.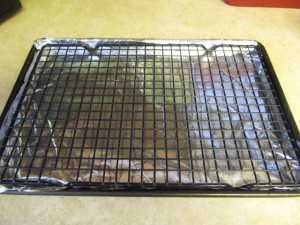 Form the meat mixture into a loaf shape and gently place it on the cooling rack. Cooking it this way pulls the fat out of the meatloaf, so you aren't left with a loaf of meat swimming in fat. Ew.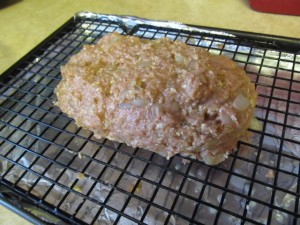 Top with half the sauce and bake at 350 degrees for 45 minutes.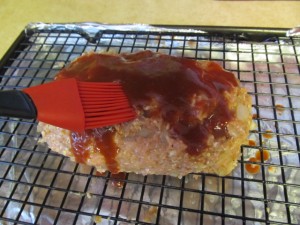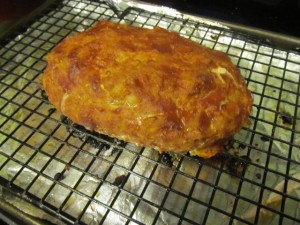 Top with the additional sauce and bake for another 15 minutes.