Few things bring me as much joy as a chocolate chip cookie. But one thing on that very short list is chocolate chip cookie dough. This is probably why making chocolate chip cookies is a frequent occurrence in my home.
Here is one of my favorite chocolate chip cookie recipes. This recipe came from my sister, who is the greatest cookie maker on the planet. One of the greatest things about this recipe is, it freezes beautifully. After I make the dough, I scoop out (what is left after baking and eating) dough into balls, just like I would if I planned to bake them. I put the balls on a cookie sheet lined with wax paper and cover it with plastic wrap. Then I put the tray in the freezer until the cookies are frozen and then transfer them to a freezer bag. They stay good in the freezer for… hmmmm… I have no idea. The longest they've lasted in my freezer is about a month. That's how long it takes us to either bake the entire batch, or (here comes a guilty confession) for me to eat through the frozen balls of dough. I know it's bad to eat raw cookie dough but I just can't seem to help myself! The best part is, you don't have to let the dough thaw before baking. Just stick the frozen balls on a cookie sheet and bake them at 375 degrees for 12 minutes. So easy!!! For a strange reason, I don't have a picture of the completed cookies. Luckily, I do have a picture of my favorite part of the process.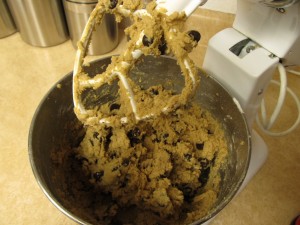 Freeze and Bake Chocolate Chip Cookies
Ingredients:
1 C softened butter
1 C packed brown sugar
1/2 C granulated sugar
2 eggs
1 t vanilla
2 3/4 C bread flour (this is what makes them so amazingly awesome)
1 t salt
1 t baking soda
2 C chocolate chips (my sister uses semi-sweet, but I use bittersweet. Use what you prefer)
1 C chopped pecans or walnuts (this is optional. I just think every chocolate chip cookie is better with nuts)
Directions:
Cream butter and sugars. Add eggs and vanilla and beat until well blended.
With a whisk, stir together flour, salt and soda.
Add the dry ingredients to the wet in three installments, beating after each addition.
Fold in chips and nuts.
If you want to bake some right away, bake at 375 degrees and check them after about 7 minutes. Bake the frozen dough at 375 for about 12 minutes.