Since we are all mourning the end of the whoopie pie series (oh is it just me?), I thought I'd post a different kind of cookie recipe to soften the blow.
This is one of my favorites because it's delicious and easy. It involves one of my favorite ingredients: a cake mix!
I've made these several times when I needed cookies in a hurry (because who doesn't need cookies in a hurry?).
Loaded Spice Cookies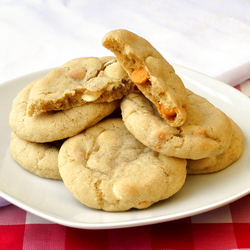 Ingredients:
1 spice cake mix
1/3 C vegetable oil
2 eggs
1/2 C butterscotch chips
1/2 C white chocolate chips
1/2 C chopped pecans
Directions:
Preheat oven to 350 degrees F.
Combine cake mix, eggs and oil until smooth (I often use my hands toward the end).
Stir in chips and nuts
Bake  8-10 minutes. Makes 2 dozen cookies
I love these cookies! If I'm being perfectly honest, I'll admit I often add more than 1/2 cup of each of the chips, plus the extra I sample while baking. Enjoy!