Whether it's cold or hot ouside, I love a good bowl of homemade chili. Here is my recipe. Feel free to change it as you like. I love chili because it's one of those "add whatever you have" recipes.
Homemade Chili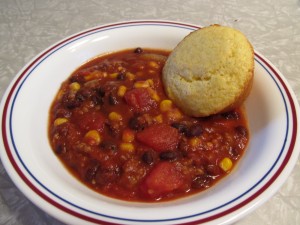 Ingredients:
1/2 to 1 lb ground meat (sausage, beef, turkey, whatever. I use 1/2 lb because I'm cheap, and I'd rather bulk my recipe with cheaper ingredients. Use as much as your family likes)
1/2 large or 1 small onion, chopped
1/2 to 1 green pepper, chopped
2 14.5 oz cans diced tomatoes
2 15.25 oz cans black beans, drained and rinsed (use whatever beans you like. My husband only likes black beans, so that's all I buy).
 1 15.25 oz canned corn, drained
3 8 oz cans tomato sauce
1/4 C taco seasoning
1 T Worcestershire sauce
2 t cinnamon
Directions:
Brown ground meat and onion. Drain off grease and pour into a large slow cooker.
Add remaining ingredients and stir.
Let cook as long as you can. Since all the ingredients are cooked, you don't have to worry about cooking things through. The longer you let it cook, the better it tastes. If you don't have a slow cooker, or the time to use one, let it simmer on the stove for half the time.
We always have our chili with cornbread or my "Beer-Free Beer Bread."