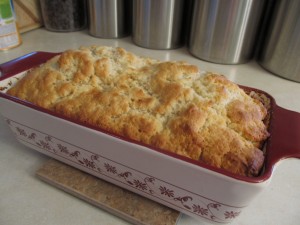 This is a classic recipe for Beer Bread, but with one difference… no beer.
I made this a few nights ago for dinner and my husband commented that it was the best bread I'd ever made. The great part is, the bread comes together in about 5 minutes.
Ingredients:
3 cups self-rising flour (Tip: If you don't have self-rising flour, use 3 C all purpose flour, 1 1/2 tablespoons baking powder and 3/4 teaspoon salt).
3 tablespoons white sugar
1 (12 fluid ounce) can ginger ale (this is the change. The classic recipe calls for 12 oz beer).
1/4 cup melted butter
Directions:
Preheat oven to 375 degrees F.
Wisk together flour and sugar.
Using a wooden spoon, stir in ginger ale.
Spread dough in greased 9×5 inch loaf pan (Tip: Dough is rather sticky and hard to spread in pan. I dipped my fingers in some of the melted butter and used them to smooth the dough a bit. It is supposed to be a bit rough though).
Pour melted butter over dough.
Bake for 45-55 minutes, or until loaf is golden and sounds hollow when you tap it.
That's it!! Because it's a bit sweet (similar to cornbread), we had it with chili and it was perfect! It's also great for a snack. When I was little, my mom used to make it with club soda and that was delicious too.