The credit for this post goes to my wonderful aunt-in-law (I'm not sure if that's even a real term). This weekend, my husband's aunt watched the kids for us for a few hours. When we came home, our kids were so excited to show us their turkeys!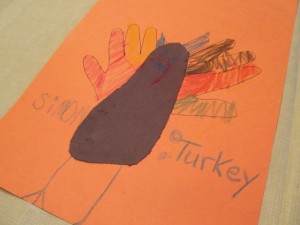 She started by helping the kids trace their hands on a piece of construction paper. The hand tracings touched, but the left hand pointed a little to the left, and the right hand to the right.
Next she traced their feet on another piece of construction paper for the turkey body. She cut out the foot shape and helped them glue it to the paper with their hand tracings. My son glued his on with the heel pointing up, but my daughter glued hers on with the heel pointing down. Though my daughter generally does her own thing.
Then the kids added faces and feet, and decorated their turkeys.
I think this is adorable! Not only is this a great Thanksgiving craft, but I now have tracings of my kids' hands and feet and their current ages. Priceless!!