Tomorrow is the first day of October! In my opinion, this makes it officially okay to get out the Halloween decorations. Here are some ghosts we made last year. You can tell the ones made by older kids and those made by younger kids. No matter what age though, these are great fun for kids to make.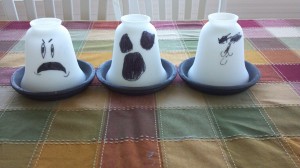 These are super simple to make and a lot of fun for kids.
Supplies (for one ghost):
Plain, glass chimney light shade (this can be purchased at any hardware store, as can all the supplies).
Terracotta pot tray (make sure the wide part of the shade fits into the tray, or you'll be very grumpy when you get everything home and discover it doesn't fit).
Black spray paint (and newspaper or cardboard for spraying)
Black permanent marker
Battery-operated tea light
Instructions:
Lay out newspaper and spray teracotta tray black. Allow tray to dry for several hours. 

Draw a ghost face on the chimney shade using the marker. The narrow part should be the top of the head, and the wide part the bottom. If your child is very young, I recommend holding the shade while they draw the face.

Place the tea light on the teracotta tray and place the chimney shade on top.
That's it! Now you have a great decoration that is fun during the day, but looks great lit up at night. My son is so proud of his ghost and can't stop talking about it.