A few nights ago, my kids and I were all set to go to the library for craft night. I broke the cardinal rule and told my oldest of the outing more than five minutes before it was set to happen.
My youngest was getting over a cold, and two hours before we planned to leave, the cold started winning again and I decided we probably shouldn't leave the house that night.
I didn't want my oldest to be mad at his little sister, so I suggested we make crafts at home. He was thrilled with the idea, though at the time, I had no idea what we were going to do.
We decided to make place cards for our Easter dinner. Here are two of the place cards we made.
The muffin cups on the back may look strange, but the idea is to fill each with candy and place it on the table.
Supplies Needed:
Craft Foam Paper
Pipe Cleaners
Muffin Cups
Permanent Markers
Egg and heart-shaped Cookie Cutters
Tacky glue and hot glue
White pom-poms
Easter Candy
Ironically enough, my Easter egg cookie cutter was the perfect shape for both the bunny and the chick.  Rather than trace the egg shape onto the foam paper and possibly leaving marks, I found if I pressed the cookie cutter into the foam paper, it left a visible indentation as a cutting guideline.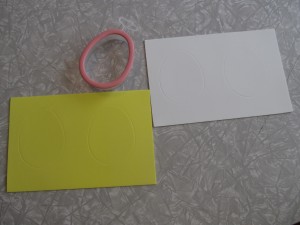 To make the bunny, cut white pipe cleaners in half and form one ear out of each half. Glue them to the back of the bunny head with hot glue.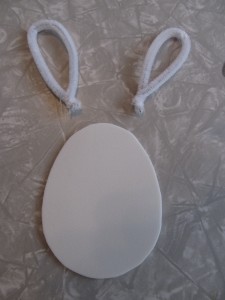 I couldn't come up with a good shortcut for the eyes and noses/beaks, so I had to do it free hand. Color the eyes the same color as the eyes of the person the place card is for. Let your kids stick the faces on using the tacky glue. Help them draw on the bunny's face and hands, and the chick's wings. Let them write the names if they are able.
Form the feet using a heart-shaped cookie cutter.
Glue two (a double-stack) muffin cups onto the feet.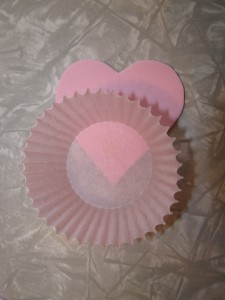 Hot glue the bunny or the chick to the feet and cup. I found the best method was to place a stripe of glue directly on the feet for the bottom of the egg shape to adhere, and a pea-size dot of glue on the back of the egg shape to stick directly to the muffin cup. Glue a white pom-pom to the back of the muffin cup of the bunny for a tail.
If you have the patience to draw out the craft with your children, add bows, sparkles or other accessories to your bunnies and chicks.
Due to our lack of accessories, you can guess at my patience level.
Fill with candy and…Voila!!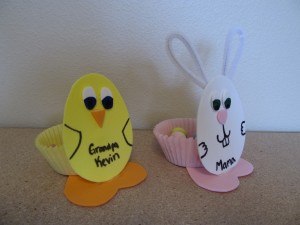 Do they look very homemade? Definitely. Was it a fun way to spend the evening with my children? Absolutely.