I recently painted my kitchen bright green; very bright green. After, a lot of my previous wall hangings didn't match the change. I got to do one of my favorite things; shop for home decor! Sadly, I didn't find anything that went well with my bright green walls. Maybe I missed the memo that one should not paint their kitchen bright green, which would explain why I couldn't find anything. But because I LOVE my new green walls, I decided to make something myself.
I decided to go for a word made of brightly-colored letters. I debated between words such as: kitchen (a bit too literal for me), chocolate, cupcake, indulge, etc. In the end, I decided to go with something basic: eat. Another bright side; I only had to paint and decorate three letters.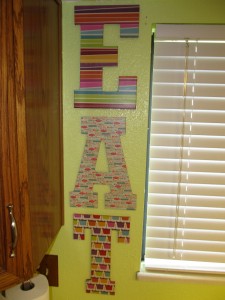 I started by painting the sides and backs of my letters a solid color. This may have been overkill; since nobody will likely see the back of the letters, but I wanted to be thorough.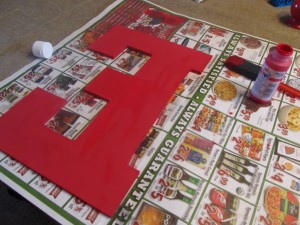 Then I picked some bright scrapbook paper to match my kitchen. This was a lot of fun for me since I don't scrapbook. I always feel I'm missing out when I pass the paper isles in craft stores. This day, I got to buy cute paper without committing to scrapbook.
I traced the letter (upside-down) on the paper and cut it out. I had to do this twice, because my letters were a bit massive  and  didn't fit on one piece of paper. If this is your problem as well, just get two pieces of paper for each letter and find where they best match.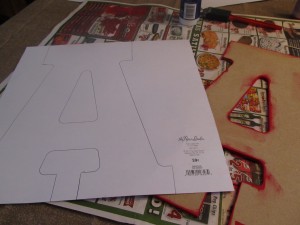 Then I glued the paper to the letter using a craft glue.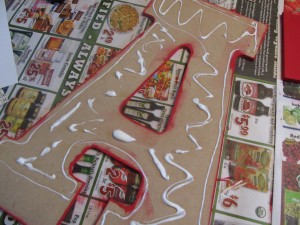 I let that set and then covered the front and sides of each letter with mod podge. I put two coats on each letter because I want to be able to wipe them clean when I inevitably slop food on them.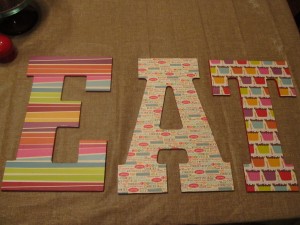 After they dried, I used Commando picture hanging strips to hang them on my wall. I couldn't use standard picture hanging hooks, because my letters are so thin, even the smallest nails would come through the front.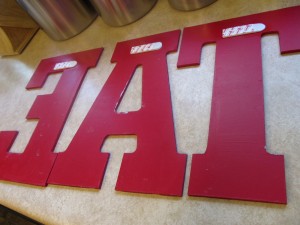 That's it! Now I have an adorable, personalized kitchen sign. I have to say, it makes me like the bright green walls even more!