For the last few weeks, I haven't been able to leave the house without being slammed with Christmas music, Christmas ads, and Christmas decorations. Don't get me wrong. I LOVE Christmas more than most people. But, I can't help but feel that Thanksgiving gets ripped off. I want to have time to watch A Charlie Brown Thanksgiving, savor every bit of my pumpkin pie and help my kids make more hand turkeys than I can fit on my fridge before being bombarded with Deck the Halls.
In a society that's moving more and more toward a sense of entitlement and instant gratification  it's so important to really celebrate Thanksgiving and gratitude. We've really tried to emphasize the holiday in our home this year. I know it's only a week until Turkey Day, but it's not too late!!! Here are just a few ideas of ways you can help your children think about gratitude this Thanksgiving season.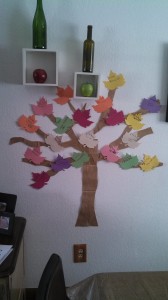 1. The gratitude tree – Depending on the age of your children and their attention span, you can do this as a one-time event, naming several things they are grateful for at once, or name something every day, making it an advent calendar. Make a tree using paper bags from a store and cut leaves out of construction paper. Each day, let your kids write something they are grateful for on the leaf and add it to the tree. My kids like to do this as an advent calendar so it's fun to see the tree get fuller every day. It makes us see just how many blessings we really have.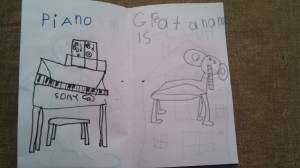 2. Gratitude journals – I like this idea because you can do several at once, one every day or one every other day. Our kids keep their gratitude journals on an end table in our dining room. Whenever they think of something they are grateful for, they can draw a picture or write about it. In our house we're very grateful for our piano and all those "grat" animals.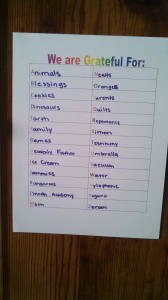 3. Grateful ABCs – We did this as a one-time activity. All I did was make a spreadsheet (oh how I love spreadsheets!), with each letter of the alphabet. Then on family night we took turns naming things we were grateful for that began with each letter. My youngest has apparently read too many ABC books which is probably why she was so grateful for Newts, Xylophones and Umbrellas.

4. Donate to a local food bank – In my opinion, nothing helps kids realize how many blessings they have more than to see those who have less. Let them help pick out non-perishable food and take it to the food bank as a family. This also teaches kids the incredible feeling that comes from service.
5. Teaching gratitude doesn't have to be elaborate or take a ton of time. During this time of year, we often take turns during dinner, naming something we're grateful for. You can also ask kids to name something they're grateful for before they go to sleep every night.
Habits begin in the home. If we can teach our children to be more grateful, the world will be a little bit better. And that's something we can all be grateful for.