I'm always trying to find new ways to get my family to eat vegetables. Usually… I fail miserably. Visions of summer squash casseroles with Quiona and tofu have flown out of my mind. This week, I decided to make a dish using things I know my family likes, but add something new. This weeks mission: introduce my family to eggplant. Mainly, this was my mission because eggplant was on sale for $0.88!! Not only did I succeed in convincing my family that eggplant is good, but I think I have a new favorite meal! I can't take 100% of the credit for this idea. I based this idea loosely from a recipe I read in a Weight Watchers cookbook but I made changes to make it more realistic for my family and to give it more flavor.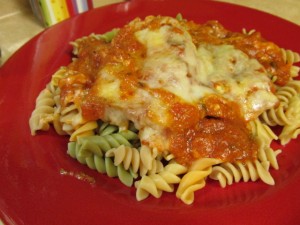 The first step is to prepare the eggplant.
Peel the skin of one eggplant using a vegetable peeler. Chop off the top and the bottom and then slice the eggplant vertically into 8 slices.

Lay the slices on a baking sheet lined with foil sprayed with cooking spray.

Spray the eggplant with the cooking spray and sprinkle the slices with a little salt and pepper.

Broil the eggplant until it's a dark, golden-brown (about 4 minutes) just one one side.

Set the eggplant aside to cool.
Now for the filling! In a skillet, heat 1T of olive oil and cook:
1/2 onion, chopped

1 stalk celery, chopped
1 carrot, grated
2 cloves pressed garlic
Cook this until the vegetables are soft and the onion is translucent.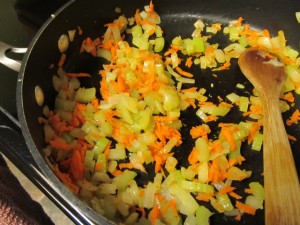 Set this aside and in a small bowl, combine:
15 ounces low-fat ricotta cheese

1/2 t oregano
1/2 t pepper
2T fresh basil, chopped
1/2 t salt
Add the sauteed vegetables to the ricotta mixture and mix well.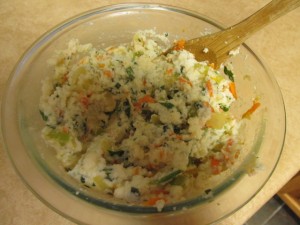 Now it's time to assemble!
First spread about 1/3 C marinara sauce from a 24-ounce jar on the bottom of a 9X13 baking dish.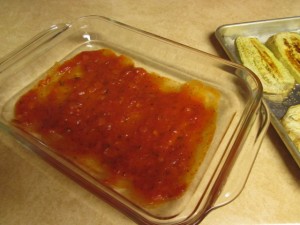 Put about 1/4 C of the ricotta/vegetable mixture in the middle of the cooked eggplant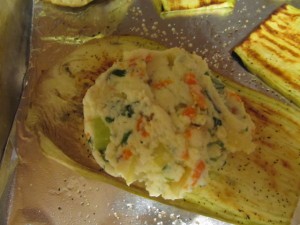 Roll the eggplant around the mixture and place it seam-side down in the baking dish.
Do this with the remaining eggplant pieces and ricotta mixture.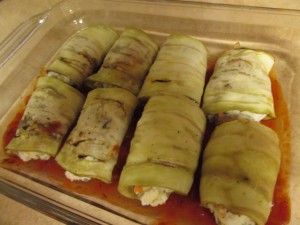 Pour the remaining marinara sauce over the eggplant and top with 1C Italian shredded cheese blend.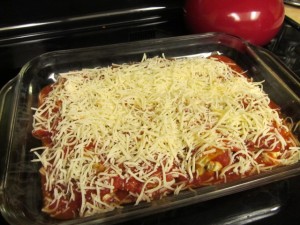 Bake this a 350 degrees for about 30 minutes of until the cheese is melted and the sauce is bubbly.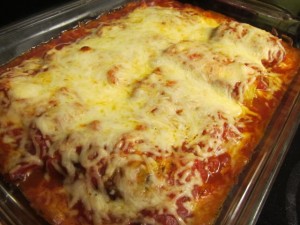 In the meantime:
Cook 10 ounces (dry) of pasta. We used vegetable blend rotini.

Put 1/4 of the pasta on a plate and top with 2 eggplant rolls and sauce for each serving.