This week, we decided to make flower sugar cookies. These were so much fun to make (and eat… of course). These cookies are perfect to celebrate spring, or to mourn when the snow starts to fall.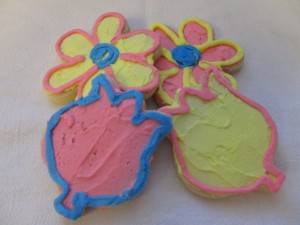 I've posted this sugar cookie recipe before, but it really is the best sugar-cookie recipe I've found, so posting it again won't hurt anything.
Cookies:
Ingredients
1 pound butter, softened
5 cups sifted all-purpose flour
2 cups sifted confectioners' sugar
2 tablespoons milk
1 tablespoon almond extract (You can use vanilla or peppermint if you don't like almond)
Directions 
Preheat oven to 325 degrees F.
Mix butter in a mixer until light, add remaining ingredients.
Knead until velvety. I know it sounds strange to knead cookie dough, but since this is more of a shortbread, kneading makes it softer and easier to work with. Roll one-quarter of the dough at a time to about 1/3 inch thickness using the smallest amount of flour possible.
Cut the dough using flower cookie-cutters.
Bake on a lined cookie sheet for 10 minutes. Cookies will be almost white when cooked.
Frosting:
Ingredients:
1 C butter
4-6 C powdered sugar
2 t almond extract
2-4 T milk
Food coloring (my favorite kind is the Wilton gel food coloring in the small tubs. I scoop a little out with a toothpick and add it to the frosting. With these, a little goes a long way. We picked blue, pink and yellow for spring).
Directions:
Cream butter and powdered sugar
Add milk and almond extract and beat for 5 minutes
Divide the frosting so you can make equal amounts of each color (we, of course, split ours into three equal parts).
Add food coloring and beat well.
Now frost the cookies!!! We picked a solid color for each base, and then piped the outline of each cookie with a different color. The  large bloom cookies got a gob of color in the middle for the center of the flower. We experimented with adding dots, lines and swirls, but decided the simple cookies looked better.