Every Friday night, we have breakfast for dinner. Last week, we were out of the house until 6 p.m., so I needed to make dinner in advance. Since pre-made french toast isn't that appealing, I decided to try french toast in the slow cooker. I don't think I'll ever make it piece by piece for dinner again!!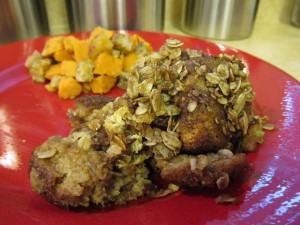 Early in the day (or the night before), slice into cubes:
1 loaf bread (use any kind you want. French bread, sandwich bread, rolls, etc. We used a really healthy bread none of us liked too much on our sandwiches. Dousing it with eggs, milk and sugar was a great way to use it up.)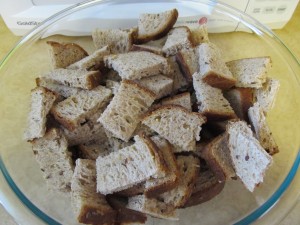 Put the bread in a large bowl and in a smaller bowl, combine:
5 eggs
2 C milk
2 T vanilla
1/4 C brown sugar
The zest of one orange
2 t pumpkin pie spice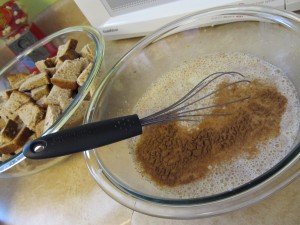 Pour this mixture over the bread and mix to make sure all the bread is covered in the liquid. Put this in the fridge for somewhere between four hours and overnight.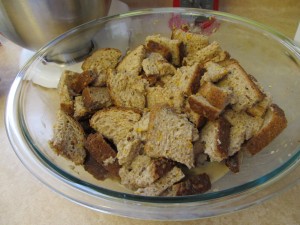 After the bread soaks for a while, pour it into a cold slow cooker, covered in non-stick spray. If you don't spray it, and spray it well, you'll be cursing me as you do your dishes that night.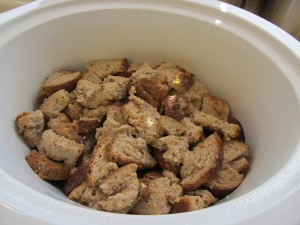 In a small bowl, combine:
1/4 C melted butter
1/2 C brown sugar
3/4 C oats
1 t pumpkin pie spice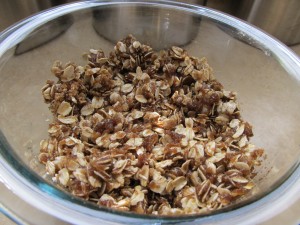 Sprinkle this mixture over the bread, cover with the lid and cook on low for four hours, or on high for two hours.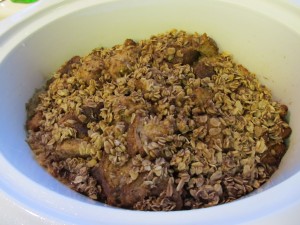 That's it! This was so good, I'm thinking of making it on Christmas!!