Last night for dessert, I made an amazingly delicious pumpkin cake. The reviews said to top it with cream cheese frosting, but I was out of cream cheese. I decided to make a salted caramel frosting and it was delicious. I used my mom's caramel frosting recipe as a base, but changed it a little and added salt.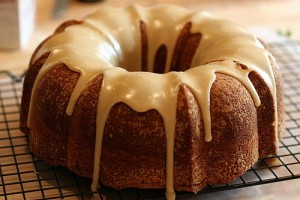 Directions:
Melt 1/2 C butter in a medium size sauce pan on medium-low heat.
Add 1/2 C brown sugar (I always use dark) and bring to a boil. Let it boil for 2 minutes, stirring constantly.
Add 1/3 C milk and whisk until combined. Bring mixture back to a boil and let it boil for another 2 minutes, without stirring.
Let mixture cool to lukewarm and add it to a bowl with 1 1/2 C powdered sugar.
Whisk vigorously (or use a hand mixer) until everything is combined and the mixture is smooth.
Whisk in 1/2 t vanilla.
Whisk in the salt 1 teaspoon at a time until you have your desired flavor. I used 2 teaspoons in mine.