I love everything associated with Easter. I love dying eggs, eating Peeps, decorating bunny cookies and filling Easter baskets. While we still do all those things, this year, I wanted to really emphasize the true meaning of Easter to my kids. I've tried to explain the Christian story of Easter to them, and they understand it to an extent, but I think making these rolls helped. When I first saw the recipe years ago, I laughed and thought it was just silly. Now that I have to explain Easter to a 4-year-old, I'm  thankful for this recipe.
Ingredients:
1/4 C butter
2T sugar
1 t cinnamon
1 t pumpkin pie spice
8 large marshmallows
1 package crescent roll dough (8 to a package)
Start by melting 1/4 C butter. Then in a smaller bowl, combine 2T sugar, 1t pumpkin pie spice and 1 t cinnamon. If you don't like pumpkin pie spice, feel free to use all cinnamon (which the original recipe calls for). I just love the extra flavor that comes from the pumpkin pie spice.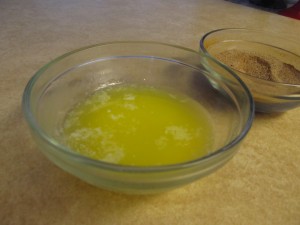 Now is where the symbolism comes in. Gather 8 large marshmallows. Explain to your kids that this marshmallow represents the body of Jesus Christ (I know. I rolled my eyes when I first saw this, but nothing catches the attention of my 4-year-old like a fresh, puffy marshmallow).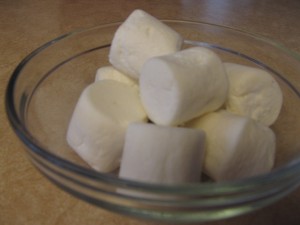 Explain that after Jesus died, his friends anointed his body with oil (roll the marshmallow in the melted butter. This is a great job for the kids).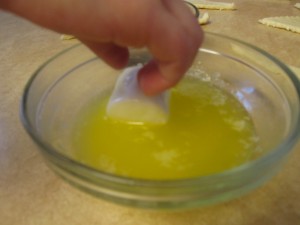 Then they anointed his body with spices (roll the marshmallow in the cinnamon/sugar mixture).
They then wrapped his body in a white cloth (roll the marshmallow up in a store-bought crescent roll dough. To prevent some leakage, seal the dough as much as possible and then roll it in your hands, like you'd do with a ball of cookie dough).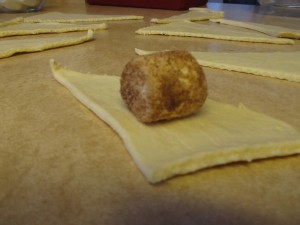 Put the rolls in a greased 9×13 pan (there is no symbolism here. It's just a much better idea than sticking the rolls directly in the oven). You may notice one of my rolls looks different. I may have accidentally dropped the rolled dough in butter. And then I may have thought, "might as well roll it in the spice mixture as well." And then it may have been the most delicious of them all! I thought of doing it with them all, but since I'd just explained to my son that they wrapped Jesus' body in a white cloth, which represented purity, that would confuse him.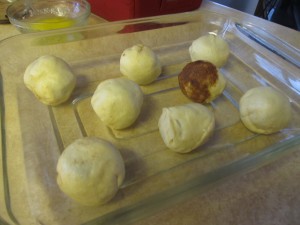 Put the rolls in a 375 degree oven (explain that this represents the tomb), and bake for 12-14 minutes.
Pull the rolls out and let them cool. The marshmallows will probably seep out a little, but there are worse things in life than gooey, delicous, buttery marshmallows.
Now is where the magic comes in. After the rolls are cool, cut them in half and look inside. The marshmallow is gone and the roll is hollow!! Explain to your children that Jesus' body wasn't in the cloth in the tomb anymore because he was resurrected.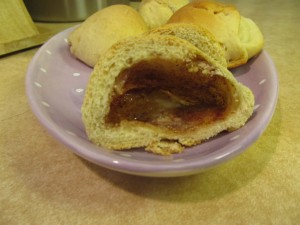 You may be skeptical, but after we made these rolls, my son could explain the whole resurrection story to me. Another plus is, these rolls are so good!! My house smelled amazing while they were baking and the flavor was addicting. These are great for Easter breakfast or an after dinner treat.
I hope you all have a wonderful Easter!