For years, I've made this dessert using chocolate pudding. It's so delicious and pretty easy to make! This week, I read a blog suggesting using the seasonal pumpkin Jell-o pudding in place of the chocolate. It was like the clouds parted and the sun came out. You had me at Jell-o.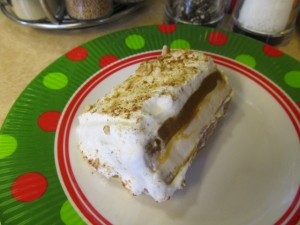 I decided to use my standard recipe, but use the suggestion of the pumpkin pudding. Luckily, I'd purchased a packet of the pumpkin pudding in early October. Sadly, the recipe calls for 2 packets of pumpkin pudding and I only had one. On my many outings in search of another packet, I discovered pumpkin pudding is an October treat here. WHAT?! Hopefully, that isn't the case where you live but if it is… I have another seasonal substitution that is, in fact, currently available.
Start with the amazingly-wonderful cookie-nut crust. YUM!!!! Combine:
1/2 C butter (melted)
1 C flour
1 C chopped walnuts
3T sugar
1t cinnamon
Press this mixture in the bottom of a 9X13 pan and bake at 375 degrees for 15 to 17 minutes.
Let the crust cool completely before adding the remaining layers.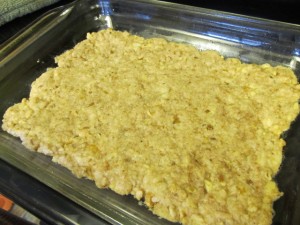 Now we move onto our cream cheese layer. Here is where I made the first change since I didn't have 2 packages of pumpkin pudding.
Cream together:
4 ounces regular cream cheese, softened
4 ounces pumpkin pie spice cream cheese, softened (That's right! It's in stores now! If you can't find ANY pumpkin pudding, use 8 ounces of the pumpkin cream cheese instead of adding the 4 ounces of the regular and make the changes listed in the pudding layer).
3/4 C powdered sugar
1 1/2 C whipped topping
Spread this mixture over the crust.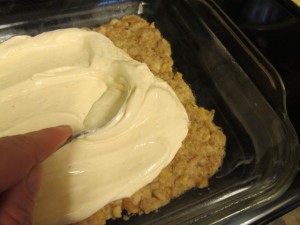 Now we move onto the pudding layer! Beat together in a medium bowl:
2 small packages pumpkin pudding, (or one pumpkin and one cheesecake pudding; or two cheesecake puddings.
2 1/2 C cold milk.
Let this set up in the fridge for about ten minutes.
After this sets, spread it over the cream cheese layer.
Now top the entire thing with:
1 8 ounce tub whipped topping
Sprinkle with:
1 graham cracker (crushed finely)
2 t pumpkin pie spice
Let this set in the fridge until you're ready to serve it. The original recipe calls for 8 ounces regular cream cheese and two packages chocolate pudding and should be sprinkled with cocoa powder at the end.