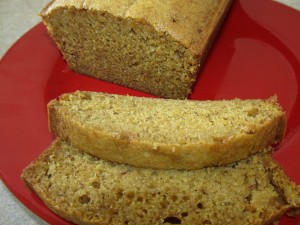 Last week, I had some over-ripe bananas. I decided I could either make plain old banana bread, or come up with something new. I decided to try something new and I now have a new favorite form of banana bread.
Ingredients:
3 ripe bananas
1 1/2 C pureed pumpkin
1 C softened butter
2 ½ C sugar
4 eggs
1 t vanilla
3 1/2 C flour
2 t baking soda
1 t salt
1 t cinnamon
¼ t cloves
Directions:
Preheat oven to 300 degrees F.
In a small bowl, mash bananas and combine with pumpkin. Set aside.
In a large bowl, cream together butter and sugar.
Mix in eggs, beating one at a time.
Add vanilla.
Add pumpkin-banana mixture.
In a medium bowl, stir together flour, soda, salt, cinnamon and cloves with a whisk.
Add to wet ingredients and mix just until combined.
Divide batter evenly into 2 9×5" greased loaf pans.
Bake for 1 hour 15 minutes, or until an inserted toothpick comes out clean.
Let

bread

cool in pans before removing.
This bread tastes great on its own, or topped with cream cheese or Nutella.