We made these adorable treats for my niece to take to her class for a St. Patrick's Day party. As we made them, she suggested they would also be great to make on Dr. Seuss's birthday (March 2). I think they're adorable anytime you want green eggs and ham. Plus, these aren't actually made with green eggs… which to be honest, sounds pretty disgusting.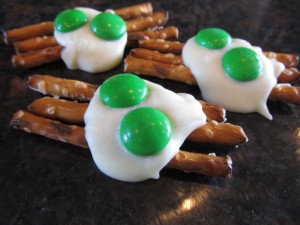 These call for only three ingredients:
Stick pretzels
White chocolate
Green M&Ms
Start by laying out bunches of three pretzels on a sheet of wax paper. This represents bacon, which is our ham portion of the green eggs and ham.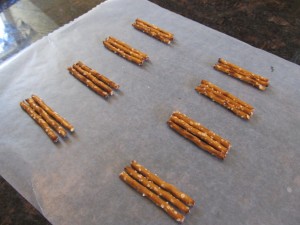 Now melt the white chocolate in a microwave safe bowl, stirring after each 30 seconds until the chocolate is melted.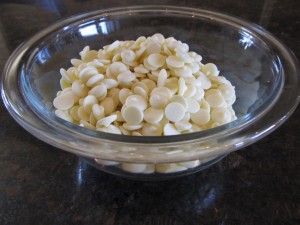 Dollop about a tsp of chocolate in the middle of the pretzels, covering all three. This is the white of the egg.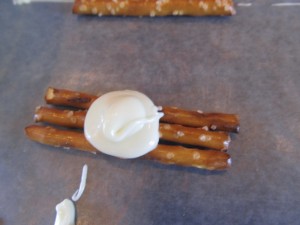 Now for the green part! Put two green M&Ms on top, Ms down (which doesn't always happen when the kids are in charge of this part), gently on the white chocoalte. These are the green yokes.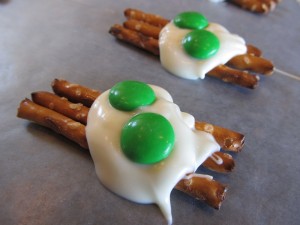 That's it! Now just let them set for a few hours. One 11-ounce bag of white chocolate chips made about 52 treats.