This Sunday is St. Patrick's Day. I love this holiday because there are no obligatory traditions except to wear green, but it's a fun excuse to celebrate.
Here are a few ideas of how to celebrate St. Patrick's Day.
Every year for breakfast, we have Lucky Charms. We don't often eat sugary cereal in our house, so it's a real celebration! We also make green milk by adding two drops of green food coloring to a glass of milk. Easy! I love this because it's festive, but requires very little work.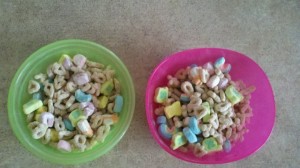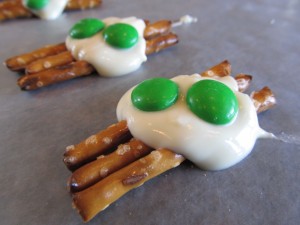 Green Cupcakes – Add some green food coloring to your favorite light-colored cupcake recipe or cake mix and do the same with the frosting.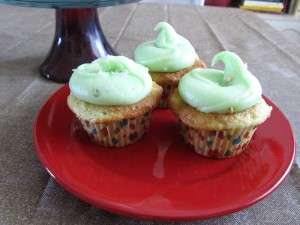 Have a leprechaun visit – Cut out small green footprints and put them around the house. Have each lead to a pile of gold coins (this can be actual money, fake money or chocolate coins). Or rather then stash the coins all together, hide the coins and send the kids on a coin hunt.
Make an authentic Irish meal. If you can't or don't want to make an Irish meal, stick to green things (green veggies, big salad, spinach wraps, spinach pasta, pesto, etc).
Watch an Irish movie. – Darby O'Gill and the Little People and Leap Year are my personal favorite Irish movies, but if those don't strike your fancy, here is a list provided by IMDB.com.
In past years, we've played the Green Toy Game. The kids gather together all their green toys and find fun ways to play with them. They generally discover toys they've completely forgotten about, so in that way, St. Patrick's Day is like Christmas in our house!!
Make it a "green day." Try to do things, small or big to help the environment. Here is a list of ideas for "going green."
Happy St. Patricks' Day!!