I love hot drinks during the winter, but really, I can drink them any time of year. I love this one in particular because it has so many variations. Here is the basic recipe.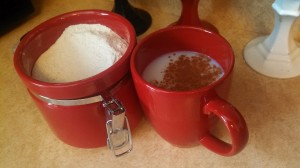 2 cups instant powdered milk
2 cups French Vanilla coffee creamer
1 cup sugar
1 tsp cinnamon
Mix all ingredients together and add 1/3 C mix to 1 cup hot water.
Here is my version. I think it is more delicious and… LOW CALORIE!! 🙂
2 cups instant powdered milk
2 cups sugar-free hazelnut coffee creamer
1 cup Splenda
2 tsp pumpkin pie spice
DELICIOUS! And I feel like this is something I can have without worrying about calories. It doesn't even taste diet. I've also made it with caramel creamer and that is delicious as well. Enjoy!