I'm always trying to come up with new ways to make potato side dishes. I love mashed potatoes, but to be honest, I'm too lazy to make them very often. Here is a potato side dish that is amazingly delicious and comes together in minutes. It's so easy!!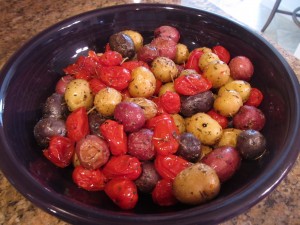 In a large bowl combine:
24 ounces baby potatoes (I think these things are so cute!!)
1 pint grape tomatoes (again… cute)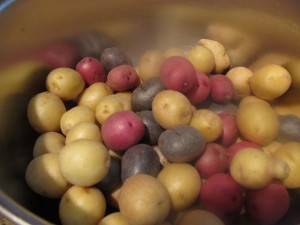 Top them with:
1/8 C olive oil
1 t salt
1/4 t black pepper
1 t rosemary
1 t thyme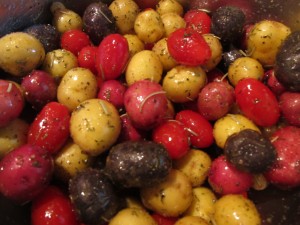 Stir this all together and spread it out on a baking sheet lined with foil (just to make your life easier when it's time to clean up). Roast them in a 400 degree oven for 30 minutes.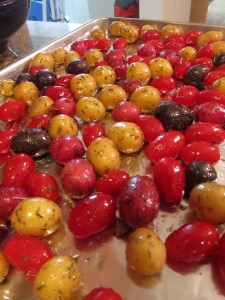 Since I only buy baby potatoes or grape tomatoes when they are on sale, I've often  substituted a chopped russet potato and some chopped roma tomatoes. It's not quite as amazingly wonderful, but it's still very tasty.