A few years ago we had a family reunion. These brownies were one of the many delights there. These brownies are one of the many reasons I love my family.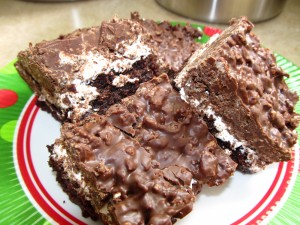 Start with your favorite brownie recipe baked in a 9×13 pan. This can be from scratch or a box. Really, with what we're about to do to these brownies, it's going to be delicious to matter what you use.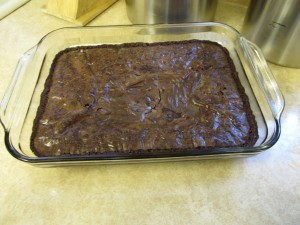 Once the brownies are cool, spread a large bottle of marshmallow cream on top. YES!! After many tries, I discovered the best method is; to scrub my hands down, spray them with a little non-stick spray, and use my lathered hands to spread the cream. If you're worried about the taste from the spray, a little water on your hands instead will also work.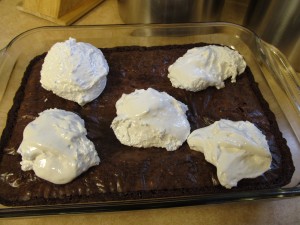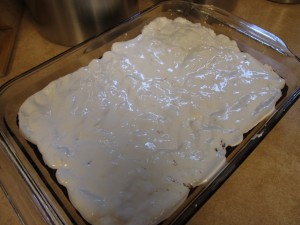 Now, melt 2 C chocolate chips and 1 C peanut butter (combine them and microwave in 30 second increments, stirring after each. This should take about 1 1/2-2 minutes) . You really can't go wrong with that combination in a recipe. Use whatever kind of chocolate chips you like. I used 1C mini semi-sweet and 1 C bittersweet, because that's what I had on hand. Now stir in 3C crispy rice cereal.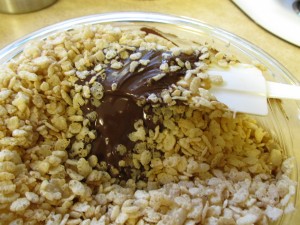 Spread this on top of the marshmallow cream. Can you see now why I love my family?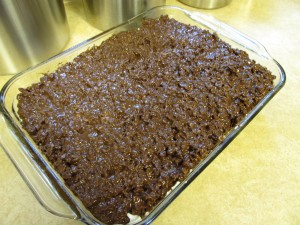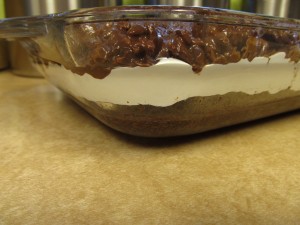 Let this set in the refrigerator for at least three hours. That's it! These are AMAZING!!