Every first snow of the season, I make these pumpkin bars. They are easy, delicious and make my entire house smell like fall. The good part is, these taste great whether it's snowing, raining, or 100 degrees outside!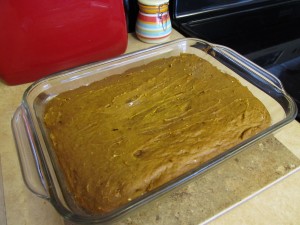 Ingredients:
1 spice cake mix
1 15-ounce can pumpkin puree
Directions:
Combine cake mix and pumpkin
Spread into greased 9X13 pan
Bake at 350 degrees for 25-30 minutes
Let cool and top each piece with whipped topping
That's it! They are so easy and yummy! The original recipe calls for chocolate chips and makes them as cookies, but I like them better this way. Plus, spreading all the batter in one pan is easier than scooping out cookies.