Growing up, fruit pizza was one of my favorite desserts. It's one of those desserts that is simple, fun to look at and tastes great. Last week, I decided to introduce fruit pizza to my family. The problem is… I have two members of my family (who both happen to be male), who think they will promptly drop dead if they come in contact with the majority of fruits. Since the fruits they will eat would just be strange on a fruit pizza (apple, grapes, etc), I decided to make a half and half pizza. Half fruit for myself and my daughter, and half candy bar for my husband and son. I  think everyone was satisfied with the result.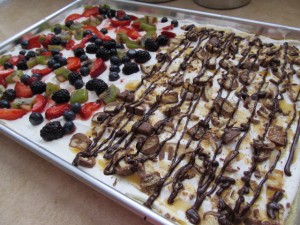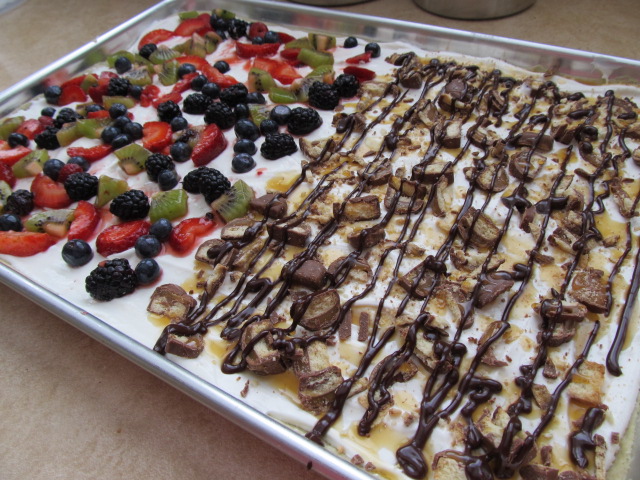 Start with a big batch of cookie dough. Make one from scratch or use a store-bought dough. If you use the store-bought rolls, use two.
Spread the dough onto a half sheet pan (I did it this way because it's easier to cut small pieces for kids, but feel free to use a round pizza stone if you like).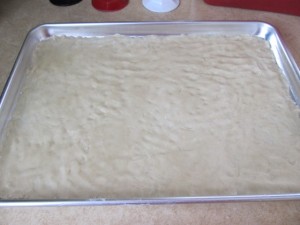 Bake the crust at 350 degrees for about 15-20 minutes and set it aside to cool. You really want the crust to be cooked all the way through because the toppings will soften it.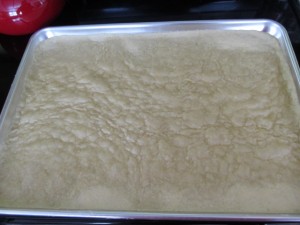 Now start with the sauce. This is pretty much awesome. Beat together:
8 oz softened cream cheese

1/2 C powdered sugar
1t vanilla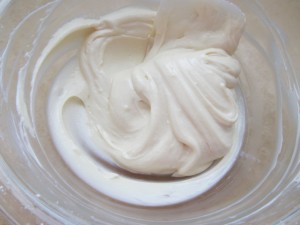 Fold in:
1 8 oz tub whipped topping (I don't recommend using fresh whipped cream as you need something that will hold up longer).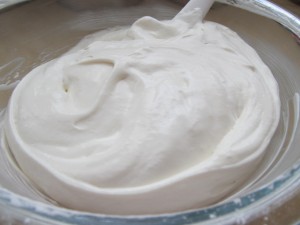 Spread this delicious combination over your completely cooled cookie dough.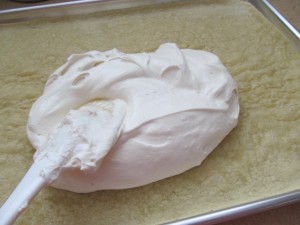 Now get your toppings ready:
Candy bar pizza:
Chop up 3 candy bars. We used Twix bars, but use whatever you like.
Spread the candy over the pizza.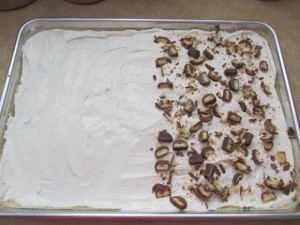 Top with chocolate and caramel syrup.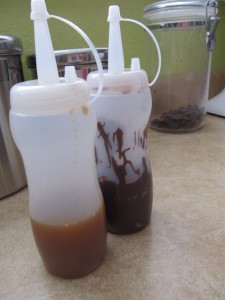 I used purchased caramel sauce, but made my chocolate sauce by combining:
1/3 C half and half (simmer to warm)

1/3 C chocolate chips (melt in half and half)
1t vanilla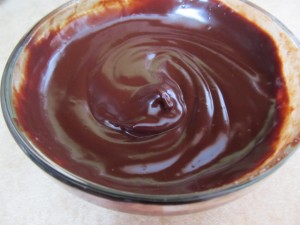 Let the sauce cool before adding it to the pizza.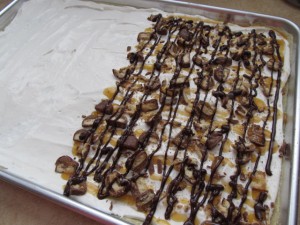 Fruit Pizza:
In a medium bowl, combine:
1/4 C blackberries
1/4 C blueberries
1/4 C chopped strawberries (about 4-5 strawberries)
2 kiwis (chopped)
Top with
2 t agave nectar
1 t lemon juice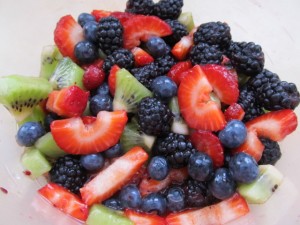 Let this sit for about five minutes and then add the fruit to the pizza using a slotted spoon. The reason for the slotted spoon is, if you get too much juice on the pizza, it will turn a bit soggy.
Now you can decide which you prefer.  After tasting both, I still like the traditional fruit pizza, though the candy bar pizza was delicious as well.