A few months ago, I saw an advertisement for a company that comes to your home and hosts a chocolate party for you and your friends. A consultant brings chocolate recipes over and let guests sample and then buy chocolate products. I thought this was a great idea, but decided I'd rather have my friends over to just eat chocolate, and not try to sell them something. So instead, I had a chocolate tasting party. I sent invitations to my friends requesting they come with samples of their favorite chocolate recipes, along with copies of the recipe. It was a great time and I think everyone left thoroughly stuffed with chocolate.
One of my favorite parts was, I got to use my Silikomart chocolate molds. These were FABULOUS! The end result actually looked like the picture, which is rare. I have two molds: a fashion mold consisting of purses, shoes and shells; and a dinosaur mold, featuring four different dinosaurs.
The directions are very clear and it made molding the chocolate super easy.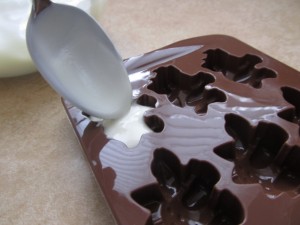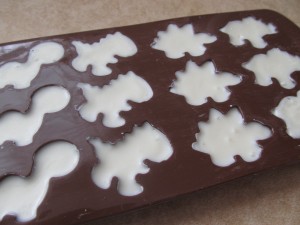 I was worried about unmolding the chocolates, but the process took about 30 seconds.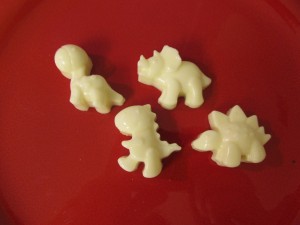 I used the fashion chocolates for the party, and the dinosaur ones for my kids. My son loved these and wants to make more.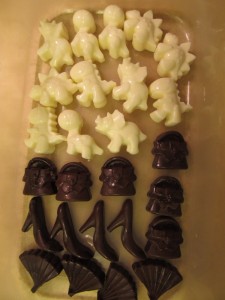 I have to get more of these things!!