As I mentioned in a previous post, I hosted a chocolate tasting party last week and asked each of my friends to bring their favorite chocolate dish. This was my contribution. What's better than a delicious, chocolaty, fudgy brownie? A delicious, chocolaty, fudgy brownie with a candy bar in the middle!!!
Start out with two batches of  your favorite brownie recipe.
Butter and chocolate. What a delicous start to a recipe!!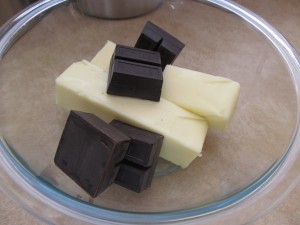 Pour one batch of the brownie batter into a greased 9×13 pan.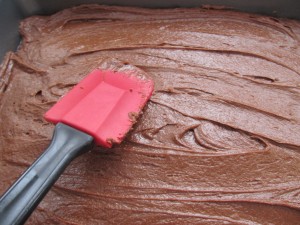 Now here comes the ridiculously awesome part…..
5 Cadbury Caramelo candy bars (4 oz)!!!!!!! Or you can use 3, 5 oz bars of your favorite chocolate bar (like the big Symphony bars)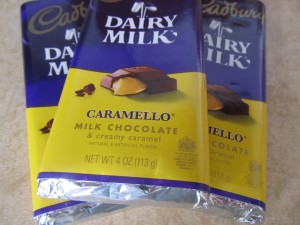 Lay the candy bars on top of the brownie batter. YUM!!!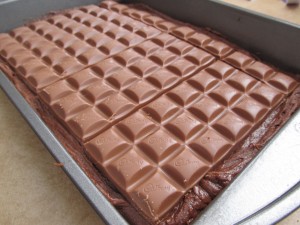 Now spread the second batch of batter on top of the candy bars.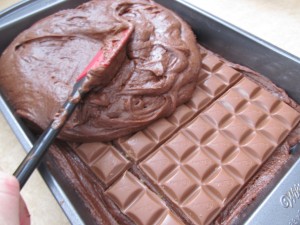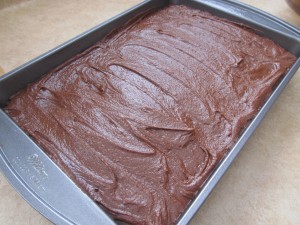 Bake the brownies at 350 degrees for 45 minutes to an hour. That's it! Now devour!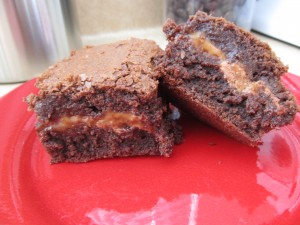 These are AMAZING! Make sure you cut the brownies into half the size of normal brownies, since they're twice as tall. This makes about 48 brownies.
My fudge brownie recipe (you have to double it for this recipe):
In a microwave, melt 1 C butter with 4 ounces unsweetened chocolate.
Add 2C granulated sugar and stir well.
Make sure mixture is completely cool and stir in 4 eggs (one at a time) and 2 t vanilla.
Stir in 1 1/2 C all-purpose flour.