This is one of the best chocolate cakes I've ever tasted! It's very moist and dark and best of all, it's one of those one bowl cakes that comes together quickly. Plus, since it's called a "snack" cake, I feel perfectly justified in eating a piece for an afternoon snack rather than that apple mocking me from the fruit bowl.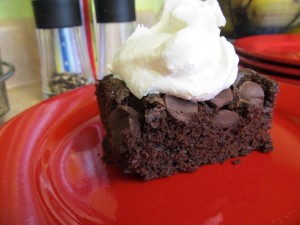 Heat your oven to 350 degrees. [Begin rant] It really bugs me when a recipe says to do this in the first step, because then my oven is sitting there, preheated, for 20 minutes. It's such a waste! With this cake, it basically takes as long to put together as it does for my oven to preheat. [End rant]
Grease an 8″ square pan.
In a medium-sized bowl, combine:
1 2/3 C flour
1C brown sugar (I always use dark, but light will work just fine)
1/4 C cocoa (which is always rounded in my case)
1 t baking soda
1/4 t salt
Make sure to whisk this mixture really well until it's all the same color. If there are still chunks of flour, it won't turn out as wonderful.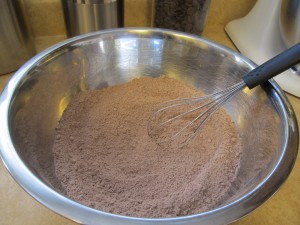 Make a well in the dry ingredients and add:
1 C water
1/3 C vegetable oil
1 t white vinegar
2/4 t vanilla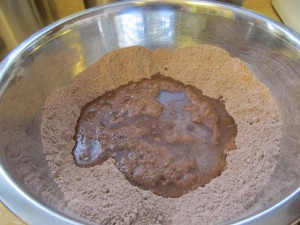 Mix this all together really well and pour into the pan. Sprinkle the top with:
1 C chocolate chips (the original recipe calls for 1/2 C, but I just don't trust a recipe that calls for less than 1 C chocolate chips. And sometimes it's more like 1 1/2 C…)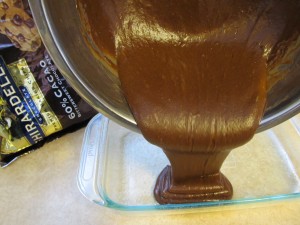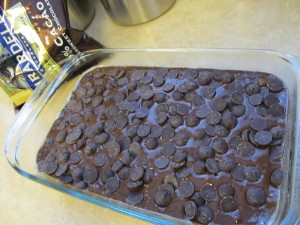 Bake for 35-40 minutes or until a toothpick comes out clean (while dodging the plethora of chocolate chips).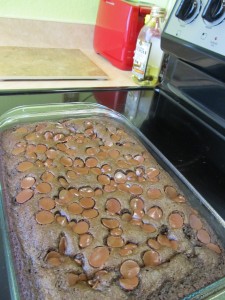 Notice this cake doesn't have any eggs!! I've actually made this several times for people with egg allergies. I made it for my son's first birthday (before I was brave enough to test him on eggs) and topped it with frosting. Needless to say… it's delicious with frosting as well.