I recently discovered a new cookbook I absolutely LOVE! It's called "C is for Cooking: Recipes from the Street." Obviously, it's a Sesame Street cookbook for adults and kids.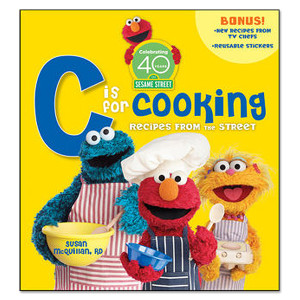 I love this book for many reasons. First off, it's written by Susan McQuillan, Registered Dietitian. This means the recipes are basically healthy. But the thing I love about the recipes is, they use normal, every day ingredients. Every time I look through a healthy cookbook, there are strange, very expensive ingredients. These recipes are healthy without costing a fortune, or  requiring you to make a major shopping trip every time you want to make something. Most the recipes call for ingredients I already have in my home.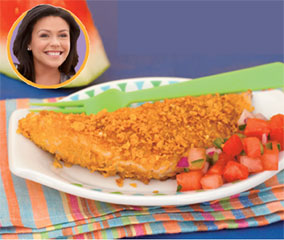 This is a recipe by Rachael Ray. The cookbook has recipes from celebrity chefs!  
Second off, I love this book because it gives great tips to get kids cooking in the kitchen. Each recipe has symbols next to the steps that are perfect for children. It also gives some great tips next to these steps (like how to remove the inevitable egg shells from the bowl).
Not only does each recipe give specific instruction on how kids can help, but the entire first section of the book is devoted to why kids should help in the kitchen, what they can do at certain ages, nutrition tips and safety tips for kids. It's totally geared toward kids!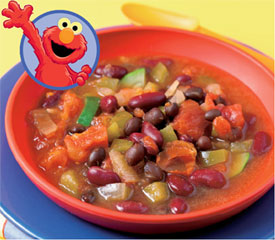 This is a picture of Elmo's Chili from the Soup section of the cookbook.
The thing I like most about this cookbooks (which is the same with all my favorite cookbooks) is how delicious the recipes are. So far I've made six to rave reviews! Recipes I've tried include: spaghetti pie, vanilla cupcakes with strawberry butter cream (which by the way, is pretty close to the best frosting I've ever put in my mouth!), dutch pancakes with apples, hot chocolate floats, easy mac and cheese and pancakes with strawberry sauce. All were delicious! I was expecting them to be below average since they're designed for kids, but they were better than many complicated recipes I've tried.
I was so impressed with this book I had to share it with my readers. If you try it, let me know what you think. I'll continue to share great finds with you!