This last week, I had to make snickerdoodles for a church fund raiser. Snickerdoodles are one of those cookies I rarely think to make but every time I do, I could easily eat the whole pan. They fit in the category of a classic, comfort recipe. They are also special in our house, because they were the first treat I ever made for my first little boy.
This recipe is the best I've ever tried. The cookies come out fluffy and chewy, just as a cookie should be.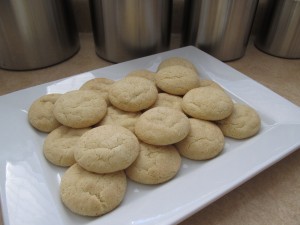 Ingredients:
1 ¼ t cinnamon
½ cup sugar
1 cup softened butter
2 ½ cups sugar
4 eggs
2 ½ T water
1 T vanilla
6 cups flour
2 t cream of tartar
½ t salt
1 t baking soda
Directions:
Preheat oven to 350 degrees.
Mix ½ cup sugar and cinnamon together in a medium bowl and set aside.
In a large mixing bowl, combine butter and 2 ½ cups sugar until light and fluffy.  Add eggs, vanilla and water; beat until fluffy.
Combine flour, cream of tartar, soda and salt in a large bowl.
Add flour mixture to wet ingredients by turning the mixer off and on in quick bursts at low speed until flour is mostly incorporated.  Continue mixing at medium speed until well mixed.
Drop cookies by rounded tablespoons into cinnamon-sugar mixture.  Roll the dough around until it is completely covered.
Place on a cookie sheet lined with parchment paper and gently press down a bit with the palm of your hand.
Bake for 9 – 10 minutes or until golden brown.  Makes 5 – 6 dozen.