I am cheap. I fully admit it. Maybe it comes as a result from my husband and I starting out broke (as most couples do), or maybe it comes from the excitement I get from saving money. Whatever the reason, I love getting deals when I buy things. No matter how our situation changes, I still try to save as much money as possible. If I'm ever a billionaire, I think I'll still try to get things for less.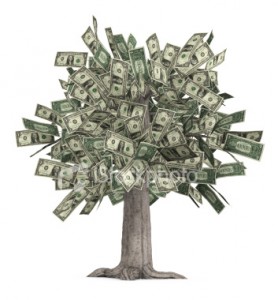 Here are a few of my favorite ways to save money.
Shop ads. – I know this is common knowledge, but this is the biggest way I save money. On average, I save about 30% on groceries just by shopping ads. That's HUGE! I'm actually quite the nerd about it and get so excited to check the mail on ads day. I sit down with a notepad and plan my menu for the week based on what is on sale. I also stock up on staples like juice and cereal by shopping ads. NEVER pay full price for cereal.
Buy meat on clearance. – When meat is about to hit its "sale by" date, it goes on extreme discount. This is how I generally buy meat. We either eat it by the sale date or put it in the freezer where it stays good for up to a year.
Find other ways to pay for things. – I've paid for things by cleaning, giving treats, trading babysitting, etc. Get creative.
Use your library. – We love to go to the library. Not only is this a great kid-friendly activity, but we all leave with something we enjoy, for free! We check out actual books, audio books and movies. It's been years since I actually purchased a book.
Don't eat out. – Eating out is so expensive (not to mention, usually not so healthy). I understand wanting a break from cooking dinner. On "date night" my husband and I either do something super simple, or make something together. It doesn't have to be fancy, and cooking together can be a lot of fun. Another way to get a break is to cook double batches and freeze half. Then if you want to skip a night of cooking, just pull something out of the freezer.
Date-night can be inexpensive. – As I said above, cook together instead of eating out. Also, find activities to do from home. My husband and I like to do puzzles, play video games and board games or check out a movie from the library. Date nights can get very expensive, especially if you have to hire a babysitter. If you do want to go out, consider doing a picnic and hike or a walk through the park.
Amazon Mom – This is a program for anyone who takes care of kids; meaning moms, dads, grandparents, guardians, etc. If you are responsible for a child, you qualify for Amazon Mom. Basically with Amazon Mom, I get discounts and free shipping on anything I purchase from the baby store. Combine that with Amazon Subscribe and Save, and I get ever higher discounts if I order something on a schedule (like diapers).
Check out rewards cards at your favorite stores. – I recently signed up for the Target Debit Card. This card is linked directly to my checking account, so I can't run up a balance. Also, if I use it, I get 5% off all my purchases and free shipping from target.com. Great deal! Next time you're in a checkout line, ask what deals that store provides with its rewards card.
Go homemade. – If I can bake it rather than buy it, I do. I also like to make homemade gifts. Not only do they cost a lot less, but they are easy to personalize and mean more to the recipient.
Borrow before you buy. – My friend and I had boys a few years apart. Rather than buy new baby clothes, we'd just borrow each other's.  This also works well with maternity clothes. I hate spending money on something I can only wear for nine months!
Save! Save! Save! – If you really want something, it's worth saving for. If it's not, it probably doesn't mean that much to you anyway. My parents were always great examples to me of this. Growing up, they'd always save up for things rather than go into debt to buy them. I understand going into debt for things like a house or car, but if you really want that nice couch or jacket,  save up for it. Don't pay interest on something you don't necessarily "need."
Buy second hand. – I admit, I've walked into a few second-hand stores and was grossed out. But for the most part, they have a lot of things in great condition. I recently purchased a $150 stroller for $60 in almost perfect condition! That's huge! If you're willing to take some time and clean things up, you can find some great deals. The same can be said for classified ads. A lot of my furniture was purchased through classified ads and looks great.
Don't be afraid to ask for discounts. – Maybe some people would be too embarrassed to do this, but if something is at all damaged, I have no problem offering less for it. A few years ago, we were in Toys R Us and my son fell in love with a toy dump truck. It looked like it may have been run over by an actual dump truck but he loved it. I showed it to a manager and explained that because it was worn out and the stickers were peeling, I should get a discount. He agreed and gave me 50% off.
What are your favorite ways to save money?