Kid's tastes change constantly as they get older. Because of this, it's hard to keep one design in their room for very long. Here is an easy, inexpensive way to change the look of a room without damaging the walls.
Buy wooden shapes or letters at a craft store. Paint them with craft paint and stick them on the wall with sticky tacky.
With these, I just attached pieces of yarn with sticky tacky and hung them on the shelf.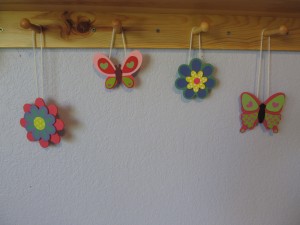 In my son's room, we created an entire scenery with cars, helicopters and airplanes.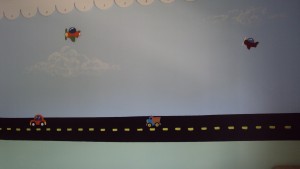 I love this idea because it is so easy to do and remove when your kids move on to a new favorite thing.