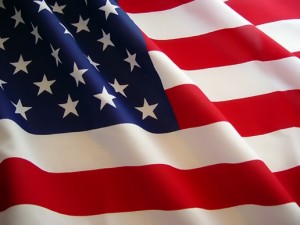 I love Memorial Day. It's great to have a 3-day weekend to spend some extra time with family swimming, having bbqs, hiking, etc. But there should be more to Memorial Day than this. I love a good bbq as much as anyone else, and fully intend to celebrate with one this Monday, but it's important to remember and respect the purpose of Memorial Day.
While Memorial Day has many different claims to its origin, it is a day designated to remember those who have died defending our freedoms. Consider doing one or more of the following to celebrate Memorial Day this year.
Take flowers to, or visit a grave of a fallen veteran. If you don't know of one personally, visit the US Department of Veteran Affairs Website to find a veteran cemetery near you.
Fly a flag outside your home. If you have an actual flag pole, fly your flag at half-staff until noon, to remember the brave men and women who have died for our freedoms.
Wear red, white and blue.
Take cookies, flowers or a letter to someone you know who has fought for our freedoms.
Use the internet or visit your library to find books and movies to learn more about the history of our country and freedoms.
Send a care package or letter to someone currently defending our freedoms.
Visit memorials (these can often be found at veteran cemeteries).
See what is going on in your area. Check newspapers and community websites for information on Memorial Day activities in your community.
Remember those who have had loved-ones die defending our freedoms.
Make a donation to an organization designed to help war veterans.
Respect the freedoms you have.
It doesn't matter if you do just one or all of these things, the important part is to take a moment and celebrate the true purpose of Memorial Day. If you have other ideas of how to celebrate, please comment below.
This post is not intended as a political statement in any way. No matter how you feel about the current war, past wars, or future wars; use Memorial Day as a time to respect those who have said "I will be the one to sacrifice so others can be free." I for one am so grateful for the sacrifices they have made and will make. I love this country!